Daddy and Them
(2001)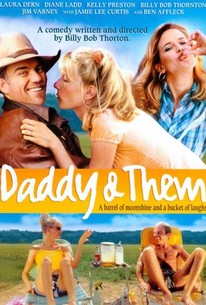 Movie Info
Billy Bob Thornton wrote, directed, and starred in this serio-comic look at the trials (literally and figuratively) of an eccentric Arkansas family. Struggling musician Claude (Thornton) and his wife Ruby (Laura Dern) get the news that Claude's uncle Hazel (Jim Varney) has been accused of murder and is in jail awaiting trial. Claude and Ruby head for the Alabama town where they grew up, and, before long, there's a friendly (and sometimes not-so-friendly) war of words among the factions of the family, including Claude's mother Jewel (Diane Ladd), father O.T. (Andy Griffith), and sister Rose (Kelly Preston). Daddy and Them's supporting cast includes Jamie Lee Curtis and Ben Affleck as a pair of married attorneys, Brenda Blethyn as Hazel's wife Julia, and Jeff Bailey, and John Prine as Claude's brothers. While Daddy and Them was shot in 1999 -- and would have been his first directorial effort after his breakthough hit Sling Blade -- the film stayed in the editing room for several years, and wasn't released until after his third feature, All The Pretty Horses.
Rating:
R (strong language)
Genre:
,
Directed By:
Written By:
In Theaters:
On DVD:
Runtime:
Studio:
Industry Entertainment
News & Interviews for Daddy and Them
Critic Reviews for Daddy and Them
Audience Reviews for Daddy and Them
½
Perfectly fine, but this is a fairly underwhelming film. It's got a more than solid cast but, outside of Andy Griffith's performance, there's sort of a mishandling of the talented cast. I don't think the scripting is great but I think there's flashes of brilliance here and there. For example, Walter Goggins' little scene with Alvin was tremendous and clearly the comedic highlight of the film. And Brenda Blethyn's freak-out was pretty great as well, her delivery was just tremendous. I also liked how Alvin, after reading ONE book about psychology, goes around psychoanalyzing everyone in his family and helping to solve their issues. These are the funniest scenes in the movie and they're left for the latter part of the film. The rest of the film's comedy is hit and miss, I think there's as many hits as there are misses. But the hits are singles rather than home-runs, to tie back to the baseball analogy. Another problem is that the last 15 or so minutes are fairly sentimental and not particularly interesting to me. I suppose they make sense in the context of Claude and Ruby's relationship, but it didn't really do anything for me and I think it did take away from the movie, which at this point I would've given 3 stars to if it hadn't been for the last 15 minutes. Still the cast is good, if slightly mismanaged, and there are some quite funny moments but I found this to be an average film at best.
Jesse Ortega
Super Reviewer
½
Brothers aren't supposed to see brothers on the shitter Claude and Roby Montgomery are a middle aged couple with no kids and little direction in life. When Claude's uncle gets locked up, they head to Claude's home to show support and attend the court precessions. While in Claude's hometown they'll uncover their true love for each other. "She's my sister and I love her but I don't like that you fucked her." Billy Bob Thornton, director of Slingblade, All the Pretty Horses, The King of Luck, and Jayne Mansfield's Car, delivers Daddy and Them. The storyline for this film is nothing special but the character development and script is amazing. The cast delivers outstanding performances and includes Billy Bob Thornton, Laura Dern, Diane Ladd, Kelly Preston, and Andy Griffin. "The only reason you guys got to church is to show off new clothes. Don't think I don't know shit like that." I caught this film while flicking through the channels and thought the lines and character interactions were mesmerizing. I could wait to see what happened next throughout the film. I caught myself completely stopping what I was doing so I could see who said what to who and what happened to this person. I loved this film and felt Thornton and Dern were perfect. This movie is worth adding to your DVD collection and is an underrated gem. Grade: A
Kevin Robbins
I must admit, I purchased this movie because I knew Jim Varney was in it. He was such a wonderful and versatile actor but I found it slightly uncomfortable hearing those foul words come from his mouth.(it was only a couple). It's not something I'm used to with him. Billy Bob Thorton really hit the nail on the head about dysfunctional families and this was about as dysfunctional as it gets. I'm from the South and, of course, I've never seen families like this in real life even though they're out there. I do like Billy's role as 'Carl' from "Slingblade" better. Jim Varney, as 'Uncle Hazel' is the only non drinker in the movie while the rest can really put away the alcohol. Uncle Hazel is falsely accused of attempted murder and is thrown in jail. The rest of the clan rally together to help him out of this situation. The first two lawyers, whom of which were married, didn't pan out and they ended up with a public defender. The courtroom scene with Jim Varney is one of the best scenes in my opinion. Claude is married to Ruby but used to date her sister, Rose. Jealousy is a big player in this. Claude and Ruby are very jealous of each other, but perhaps Ruby has some reason for it. Claude still flirts with Rose as she flirts right back. It's harmless flirting but it's a big hit for Ruby's self esteem. I think this movie pretty much translates to: "Stand by your family, accept each other but also respect one another and consider their feelings the next time you say or do something toward them."
Stacy Avary
Super Reviewer
Daddy and Them Quotes
There are no approved quotes yet for this movie.
Discussion Forum
Discuss Daddy and Them on our Movie forum!