Daddy Day Camp
(2007)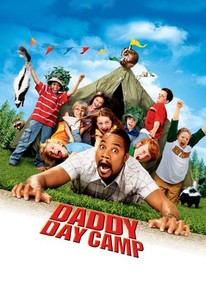 TOMATOMETER
AUDIENCE SCORE
Critic Consensus: A mirthless, fairly desperate family film, Daddy Day Camp relies too heavily on bodily functions for comedic effect, resulting in plenty of cheap gags but no laughs.
Movie Info
In this sequel to "Daddy Day Care" dads Charlie Hinton and Phil Ryerson take over running a summer day camp. Armed with no knowledge of the great outdoors, a dilapidated facility, and a motley group of campers, it doesn't take long before things get out of control. Up against threats of foreclosure and declining enrollment, Charlie is forced to call on his estranged father, Col. Buck Hinton to help bring the camp together and teach everyone about teamwork, perseverance and the power of forgiveness.
Rating:
PG (for mild bodily humor and language)
Genre:
Directed By:
Written By:
In Theaters:
On DVD:
Box Office:
$13,155,823.00
Runtime:
Studio:
News & Interviews for Daddy Day Camp
Critic Reviews for Daddy Day Camp
Audience Reviews for Daddy Day Camp
Horrible film, its just plain crap.
Jim Careter
Super Reviewer
Daddy Day Camp is a cinematic achievement, worthy to be mentioned along side other great children's films such as Willy Wonka and the Chocolate Factory, The Wizard of Oz, and Toy Story. It is a sincere, magical tale that all generations can enjoy. By now I hope you realize that I'm full of shit. Daddy Day Camp is the cinematic equivalent of horse manure. Wait a minute- I can't even say that because at least with horse crap you can grow something useful. The only thing that Daddy Day Camp grows is a reputation of being one of the worst films ever made. The film is a sequel to 2005's Daddy Day Care, which wasn't a very good movie itself, and has the distinction of having absolutely no one from the original film in its cast (the fact that I've said that means that someone will correct me. I'm going to be honest, I didn't waste the time checking because what's the point). This time around Charlie (Cuba Gooding, Jr.) and Phil (Paul Rae) end up running a day camp due to Charlie's childhood nightmare of blowing a triathlon at Camp Driftwood thirty years earlier. From here it goes into a crappy version of Meatballs/Bad News Bears as the campers compete against the rival Camp Canola. Farting and belching ensues. We could address the problems with Daddy Day Camp one by one, but I have to eat sometime and, let's be honest, most of you out there know that this movie sucks. I knew it sucked, but I had a 2 for 1 rental and my son wanted to see it because of the first one. He liked it, but a good fart joke is like Richard Pryor to him, too. I've gone over the story, which is pretty much every other underdog camp story known to man. Only this time it's executed very poorly. It's cringe worthy. The acting also fails on all levels. I'm not going to blame the kids because they're kids, but let's look at the guy that won an Oscar. The idea that Cuba Gooding, Jr. won an Academy Award leaves a little bit of green on poor old Oskie's head. He's the Pat Quinn of the Academy, being in the right place at the right time. I know I can say the same thing about Marisa Tomei, but at least she had a good turn in The Wrestler and not because she was topless. The tell tale sign was when Eddie Murphy didn't do this movie. When Eddie Murphy won't even be in your movie then you know it's going to be garbage. Eddie and bad movies is like Mikey and Life cereal- he just can't get enough. Enter Cuba. Kids will like Daddy Day Camp. So save it for a long car ride and give them some head phones. Let the 90 minutes of joy engulf them as they watch. Ten years from now they'll see it on cable, watch five minutes and realize "This movie sucks, let's watch Night Patrol�. You know it's coming…
Chris Garman
Super Reviewer
Pretty funny and hilarious, A very decent movie to watch and get a few laugh!!! Directed by one-time child star Fred Savage, Daddy Day Camp, the sequel to Eddie Murphy's Daddy Day Care, stars Cuba Gooding Jr. and Paul Rae as Charlie Hinton and Phil Ryerson, a pair of fathers who attempt to keep their summer camp afloat even though they are under dire economic strain. In order to help improve the financial situation, and to whip together a group of children who have a problem with following orders, Hinton brings in his military trained father (Richard Gant), even though he and his father have been on the outs. Soon the campers, and the fathers, are involved in a series of adventures that will make the camp solvent, and help mend broken relationships