Daikaijû kuchu kessan: Gamera tai Gyaosu (Gamera vs. Gyaos)(Return of the Giant Monsters)
(1967)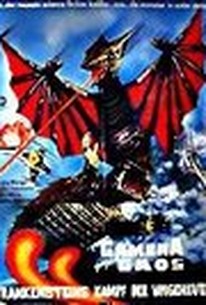 AUDIENCE SCORE
Critic Consensus: No consensus yet.
Movie Info
A gigantic bat emerges from a volcano to terrorize Japan and only one thing can stop it...Gamera!
Rating:
PG
Genre:
, , ,
Directed By:
Written By:
In Theaters:
Runtime:
Critic Reviews for Daikaijû kuchu kessan: Gamera tai Gyaosu (Gamera vs. Gyaos)(Return of the Giant Monsters)
All Critics (1) | Fresh (0) | Rotten (1) | DVD (1)
More than a little incompetent most of the time, but it has such an irresistible enthusiasm for being thus deranged that it's impossible not to fall in love with it a little bit.

If you don't know Gamera... Shame on you! Gamera is Godzilla's box office rival in Japan.

Audience Reviews for Daikaijû kuchu kessan: Gamera tai Gyaosu (Gamera vs. Gyaos)(Return of the Giant Monsters)
½
Cheesy but probably one of the best of the Showa Gamera films. There is a annoying kid in here but he's no where as bad as they will get in later films. The monster fights are nice and the ending was swell. There is actually a lot going on in this film, as there are several fights between the monsters and the military throughout. A good, fun, and campy kaiju flick.
Wes Shad
Better than the first two Gamera films in all regards until the end...where the plan is to make the bad monster dizzy. WTF. On the troll movie side, this one isn't nearly as bad funny, so it isn't as satisfying as the first 2.
Chris Hewitt
So I haven't had the best experience with the Gamera series as I so far find the only fun is whenever Gamera is on screen, and this is no different. Gamera vs. Gyaos is about a gigantic bat that emerges from a volcano to terrorize Japan and the only one that can stop is Gamera. This movie has the same problem as the first two movies as they have boring and uninteresting human characters. Though they are a little more tolerable than Gamera vs. Barugon, they still lack any entertainment for them to take up most of the screen time. Honestly I was about to give up on this film if wasn't for the fact that is has more monsters mayhem and the fact Gamera is not missing from the movie like in Gamera vs. Barugon. While the human kill the fun in the movie, the monsters make it worth the watch. When I first saw the monsters suit I cringe because they were a serious downgrade from the first two. They looked even more fake than before, something I thought wasn't even possible. Once you get pass the bad costumes, you'll find the real appeal of this movie, the hilariously poorly done monster brawls. I found myself laughing and having a good time seeing these two monster fight against each other. Gyaos makes a better opponent for Gamera and I like him better because he doesn't shoot deadly rainbows like Barugon. Gamera and Gyaos should have taken up more screen time as there the only reason I even watched the movie, to bad they don't, but the amount they're on are enjoyable. So the problem with the earlier Gamera movies from my experience so far is that the human characters are boring and the only appeal are with the monsters. Do yourself a favor and watch this movie just for the monster brawl, skip pass the boring human part and you'll have a good time like I did.
Caesar Mendez
Super Reviewer
Discussion Forum
Discuss Daikaijû kuchu kessan: Gamera tai Gyaosu (Gamera vs. Gyaos)(Return of the Giant Monsters) on our Movie forum!
News & Features