Dalai Lama Renaissance
(2007)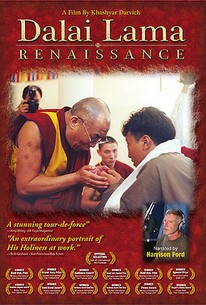 Dalai Lama Renaissance Photos
Movie Info
As the curtain rapidly fell on the 20th Century, his holiness Tenzin Gyatso, the 14th Dalai Lama of Tibet, grew so deeply troubled by the state of the modern world that he invited 40 pivotal Western thinkers to his secluded home in Northern India's Himalayan Mountains, for a lengthy and pointed brainstorming session on the problems of contemporary society and how to solve them most effectively. Foreseeing the importance of this event, documentarist Khashyar Darvich joined the group with an 18-member, 5-camera crew in tow (sponsored by the Wakan Foundation for the Arts) and sought to capture the event on film. This yielded some 140 hours of video footage, edited down to feature length for Darvich's documentary Dalai Lama Renaissance. The film preserves, in 80 minutes, the most insightful, illuminative and engaging dialogues from Gyatso's conference. Oscar-nominated actor Harrison Ford (Frantic) narrates.
Rating:
NR
Genre:
,
Directed By:
In Theaters:
Runtime:
Studio:
Critic Reviews for Dalai Lama Renaissance
Audience Reviews for Dalai Lama Renaissance
This is an important work. Watch it for the message, for the lesson - not necessarily for how well the film is crafted. Watch it with an open mind and you may find that by the end your heart has been opened as well.
Janice Schuster
½
It's always a joy seeing the Dalai Lama speak (especially on the big screen), and of course the scenery from India was beautiful. But as a whole, this documentary was a huge disappointment. This film is about scholars who went to India on a global sustainability summit at the turn of the millennium. But the beautiful scenery and good intentions were ruined by the bickering, egotistical scholars & participants from the West. The summit very quickly devolved from discussions of global sustainability to ego battles among the participants. The almost singular exception Vicki Robin - one of my favorite speakers, and author of Your Money or Your Life. As a social justice advocate, it was particularly frustrating to watch these progressives sabotage their own efforts ... because this is what I see in every city, among many organizations working towards sustainability. If you're a huge fan of the Dalai Lama, go ahead and watch this film for the 10-15 minutes of him speaking. Or, if you're a part of an organization working for sustainability, and you want a case study of how destructive patterns sabotage a group, then you may get something out of this. For most people, I suggest skipping this film completely.
Paul Haughey
Dalai Lama Renaissance Quotes
There are no approved quotes yet for this movie.