Dalkom, salbeorhan yeonin (My Sweet, Yet Brutal Sweetheart) (My Scary Girl)
(2006)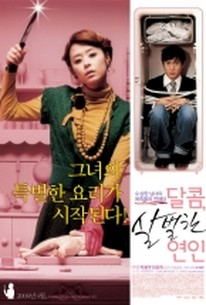 AUDIENCE SCORE
Critic Consensus: No consensus yet.
Movie Info
HWANG Dae-woo, a college lecturer, is the most gentle and warm-hearted man on earth. As his major English Literature could tell, he's a sensitive and emotional man.
Critic Reviews for Dalkom, salbeorhan yeonin (My Sweet, Yet Brutal Sweetheart) (My Scary Girl)
There are no critic reviews yet for Dalkom, salbeorhan yeonin (My Sweet, Yet Brutal Sweetheart) (My Scary Girl). Keep checking Rotten Tomatoes for updates!
Audience Reviews for Dalkom, salbeorhan yeonin (My Sweet, Yet Brutal Sweetheart) (My Scary Girl)
I had no idea what this movie was trying to be or what it was trying to focus on. Is it a movie about this incredibly shy man coming out of shell and finally dating? Is it a movie about this woman who, outwardly, seems sweet but is actually a serial killer? Is it a romance? Is it comedy? Is it drama? It's a movie that just simply has no focus therefore it isn't consistently entertaining. I just don't think everything merges well into one nice and tight package. There's movies before that have managed more than one genre at the same time and done it successfully (Audition comes to mind) but this movie just throws it out there with no real rhyme or reason. First of the movie is about the guy, then it's about the girl, then it's about the guy figuring that the girl is actually a murderer, then it's about their relationship as a whole. That's pretty much how the movie is and, again, it just doesn't mix well. When you start getting into the movie, they pull the rug out from under you. And the movie is not bad, I mean it's not good but I think it had the potential to be better than your typical romantic comedy but it failed. And of course, it wouldn't be a South Korean film if there wasn't a melodramatic moment when they break up and the guy starts crying like a little bitch. And of course trying to make the girl into a likable sweetheart, despite killing an old man for her money and even saying that he was a burden on everybody and he was dying anyway so she sped up the process, kind of bothered me because we just had to take her word for it that this guy she killed was a douche. At least show him to be an ass to her in flashbacks. I mean how can I know that she wasn't lying? Other than that, it's a fairly inoffensive movie. You could do worse but you sure as shit can do better.
Jesse Ortega
Super Reviewer
Now here is a little surprise from Korean cinema, a romantic comedy where the characters actually behave like human beings instead of being just annoying walking stereotypes. Even with the main character being the usual socially-clueless nerd that made up for most of this films, he's smart and with culture, instead of just a bag of raging hormones and idiotic behaviours, which is the usual traits of these lead characters in most asian romantic comedies. There is a plot of sorts, with Kang-Hie Choi character being a runnaway widow that might or might not (it's never clear in the film) had killed her late and terminally-old husband to get a chunk of a fortune along with two partners in crime, the lawlyer and a female side-kick. There are more situations that pop here and there and that give the film it's touch of black humour. But the main focus of the story is the relationship between Mina and Dae-Woo. The film does drag more than necessary, but it manages to stay true to the characters, and while never getting too obscure, it neither falls into the usual "happy" situations. So, what can i say? one of the few romantic comedies, leaving aside some Woody Allen flicks, that i actually enjoyed and didn't make want to kill everyone involved in it. Also, contrary to what the advertisement might have lead some to believe, the movie is not a "Scary Movie" type of parodie of My Sassy Girl, or neither a spoof of A Bittersweet Life and Lady Vengeance. it was just part of the advertising campaing of the film, considering it was also released the same year of Bitter and Lady V. An american remake could be announced any day, so check this before the buzz starts.
Tsubaki Sanjuro
Super Reviewer
Dalkom, salbeorhan yeonin (My Sweet, Yet Brutal Sweetheart) (My Scary Girl) Quotes
There are no approved quotes yet for this movie.