Dallas
(1950)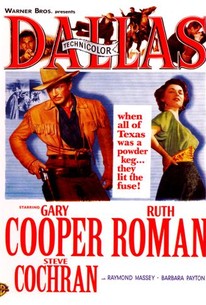 AUDIENCE SCORE
Critic Consensus: No consensus yet.
Movie Info
With Dallas, Gary Cooper revived his long-dormant association with westerns. Cooper plays ex-Confederate officer Blayde Hollister, who rides into Dallas in search of the men who killed his family and stole his land. Because he is considered to be an outlaw by the authorities, Hollister is compelled to switch identities with U.S. marshal Martin Wetherby (Leif Erickson). This ruse requires Hollister to explain his plan to Wetherby's lady friend, Tonia Robles (Ruth Roman). One by one, Hollister gets rid of the men responsible for the murders of his loved ones. The most formidable of his enemies, Will Marlow (Raymond Massey), proves to be a bit too clever to fall into Hollister's trap...at least until Marlow shows his hand in the final scene. There's more talk than action in Dallas, but Gary Cooper's laconic performance holds the audience's interest throughout.
Critic Reviews for Dallas
All Critics (3) | Top Critics (1) | Fresh (3) | Rotten (0)
Faithful to his calling, Mr. Cooper plays it manfully. He can still look askance at a varmint more contemptuously than anyone else.

New York Times
Top Critic
Gary Cooper is credibly cast, but this revenge Western is too verbose, lacking much drama.


Ozus' World Movie Reviews
Audience Reviews for Dallas
Why have you brought this crazy one with you? A Confederate officer hunts down a man who destroyed his family and life shortly after the Civil War. The officer finds the man in Dallas, but he has transformed himself from outlaw to a respectable citizen that is highly regarded. The officer will find it hard to find anyone who will help him gain revenge without putting his own life at risk. "We need to get out of town without advertising it." Stuart Heisler, director of The Lone Ranger, The Burning Hills, This is My Love, Island of Desire, Tulsa, Tokyo Joe, Chain Lightening, The Biscuit Eater, and Hitler, delivers Dallas. The storyline for this picture is pretty good with some good lines and character interactions. The acting is solid and the cast includes Gary Cooper, Ruth Roman, Steve Cochran, Raymond Massey, and Leif Erickson. "We don't want no Cain and Abel on our souls." I came across this on Turner Classic Movies (TCM) and DVR'd it. Gary Cooper was very compelling and delivers his character well. The plot is straightforward for the genre, but the dialogue and acting is first rate. I only recommend seeing this if you're a fan of the genre. "You'd get your pocket picked in a graveyard." Grade: C+
Kevin Robbins
½
131208: About three bad costumes but otherwise a decent western. Raymond Massey, as Will Marlow, is the highlight for me...neat holster and guns but bad costume.
John Redshaw
Long before J.R. Ewing and some football cheerleaders made this Texas city popular, there was this colorful Warner Brothers western starring one of the greatest action heroes of Hollywood's golden age. Cooper plays a man wanted for arson who disguises himself as a marshal to unleash the real culprit. He convinces the actual marshal (Steve Cochran) to let him take over his identity and in the process, wins the love of Cochran's Mexican sweetheart (Ruth Roman). In going after the bad guys, he comes up against Dallas's most powerful citizen (Raymond Massey in a masterful performance) and taunts the bad guys in an explosive climax. If the idea of Ruth Roman playing a Mexican doesn't make you laugh (it seems that any dark haired beauty could be cast in Hispanic parts in this era) how about platinum blonde cult actress Barbara Payton as the wife of one of the bad guys and a group of actors who are supposed to play Texans but sound nothing like them? Two years before his Oscar Winning role in "High Noon", Cooper played a variation of the same role, and in studying the two films, you really can see the difference as to what makes a film tense ("High Noon's" clock is as much of a character as the human beings in the film, while "Dallas" has little or no tension at all) and what makes it simply routine. If it wasn't for the color photography or the presence of its cast (Cooper, Massey and Reed Hadley as Wild Bill Hickock), this could have drifted into the hundreds of "B" westerns of the time, entertaining in their own right but basically forgettable. 5 Stars 2-18-13
Bruce Bruce
Super Reviewer
Dallas Quotes
There are no approved quotes yet for this movie.
Discussion Forum
Discuss Dallas on our Movie forum!