Damn the Defiant!
(1962)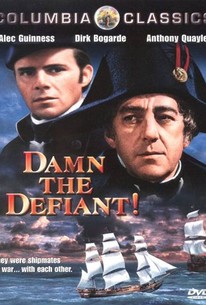 Movie Info
The crew of a Royal Navy ship embarks on a mission to fight the flotilla of Napoleon. Captain Crawford (Alec Guinness) is the firm but fair disciplinarian whose leaves the punishment to sadistic underling Lieutenant Scott-Paget (Dirk Bogarde). The lieutenant delights in the incessant floggings of the crew for whatever reason as he plots to take over the captain's position. Meanwhile, bad food, unsanitary conditions and the stings of leather whips have the crew talking of a bloody mutiny.
Rating:
NR (adult situations/language, violence)
Genre:
, , ,
Directed By:
Written By:
In Theaters:
On DVD:
Runtime:
Studio:
Sony Pictures Home Entertainment
Critic Reviews for Damn the Defiant!
All Critics (6) | Fresh (6) | Rotten (0) | DVD (1)
Alec Guinness gives a dignified performance as the humanitarian captain.

Ozus' World Movie Reviews
colorful period piece with another strong performance from Alec Guinness.

Journal and Courier (Lafayette, IN)
Audience Reviews for Damn the Defiant!
Briskly paced tale of a clash of personality on the high seas. No, the title on the film is H.M.S. Defiant, but that's the British version. Great battle scenes. [img]http://t3.gstatic.com/images?q=tbn:ANd9GcTuifwLraf8LVpcyDyhozEc_toQzcw3HBK-xxgLU96WXNAsVDxfBw[/img] Alec Guinness is the Captain Plot The humane Captain Crawford (Guinness) is in command of the warship HMS Defiant during the French Revolutionary Wars. He soon finds himself in a battle of wills with his first officer, the sadistic and supercilious first lieutenant, Mr. Scott-Padget (Bogarde). [img]http://t2.gstatic.com/images?q=tbn:ANd9GcQtuMZprdhbbK9xBFGKoU5FZjmuBcu8hpTQUSBYTBiV307LfF1rIA[/img] Got saltwater? Based on the novel "Mutiny", the storyline progresses in that manner, towards a real mutiny of sorts. The crew tries to not refer to it as such, instead signs a petition of grievance. The captain of the ship is not the problem, but one of his officers that is very cruel to the crew. Floggings seem never to end. For fans of 19th century high seas action and/or of Sir Alec Guinness (later of Star Wars fame). [img]http://t3.gstatic.com/images?q=tbn:ANd9GcR8jWmcjX1mtTqZAZqdFoZqEQogj7zMS_OVuMreVlbVCkiLLfiB[/img] Dirk Bogard, left and Alec Guinness, right SEE the entire film here: http://www.youtube.com/watch?v=KpRpO7frGO4&list=PLABED4E6510988240 [img]http://t3.gstatic.com/images?q=tbn:ANd9GcQY046WqrH34E6P3gPk3ey9I3GW9bUxeFhYYiemwmidFRgrNuDu[/img] Fantastic naval battle scenes are first class REVIEWS: 70% Loosely based on the Famed Mutiny on the Bounty, Damn the Defiant is a strong Napoleonic era period piece, and also an above average naval drama. [Wrong: Not based on famous Mutiny on the Bounty at all. Its based on the novel "Mutiny"} 80% "H.M.S. Defiant" or "Damn the Defiant!" starts by going through the usual motions of a portrayal of the Napoleonic era British Navy, a press gang conscripts... 80% Briskly paced tale of a clash of personality on the high seas. No, the title of the film is H.M.S. Defiant, but that's the British title. [img]http://t3.gstatic.com/images?q=tbn:ANd9GcThQD5aAX8HdKgUwr97gMIbG72jhAWNIxbkQr0cQjMM_pnemHKiUQ[/img] Sir Alec Guinness known to young RT from his Star Wars fame Cast Alec Guinness as Captain Crawford Dirk Bogarde as Lieutenant Scott-Padget Anthony Quayle as Vizard Maurice Denham as Mr. Goss (Ship's Surgeon) Nigel Stock as Senior Midshipman Kilpatrick Richard Carpenter as Lieutenant Ponsonby Peter Gill as Lieutenant D'Arblay David Robinson as Midshipman Harvey Crawford Robin Stewart as Midshipman Pardoe Ray Brooks as Hayes Peter Greenspan as Johnson Tom Bell as Evans Murray Melvin as Percival Wagstaffe Victor Maddern as Bosun Dawlish Bryan Pringle as Marine Sergeant Kneebone Johnny Briggs as Wheatley Brian Phelan as Grimshaw Toke Townley as Silly Billy Declan Mulholland as Morrison Walter Fitzgerald as Admiral Jackson Joy Shelton as Mrs. Crawford Anthony Oliver as Tavern Leader Russell Napier as Flag Captain Michael Coles as Flag Lieutenant Andre Maranne as Colonel Giraud James Bolam as Captain's Boy [img]http://t1.gstatic.com/images?q=tbn:ANd9GcQIT_y3SVK2dZfnImBMkiWaBsjz9lNQHQVOnEDJdlhe5qPSqDZQ[/img] This is the guy who stirs up trouble on board Directed by Lewis Gilbert Produced by John Brabourne Screenplay by Nigel Kneale Edmund H. North Based on Mutiny by Frank Tilsley Music by Clifton Parker Cinematography Christopher Challis Editing by Peter R. Hunt Studio G.W. Films Ltd Distributed by Columbia Pictures Release date(s) 15 April 1962 (UK) 19 September 1962 (USA) Running time 101 minutes [img]http://upload.wikimedia.org/wikipedia/en/thumb/2/23/H.M.S._Defiant_FilmPoster.jpeg/220px-H.M.S._Defiant_FilmPoster.jpeg[/img]
monsieur rick
½
Okay nautical drama blessed with two acting greats in Guinness and Bogarde. Beautiful photgraphy and attention to detail help but it loses it way towards the end and is never as rousing as it wants to be. Dirk is one sadistic and malevolent jerk.
Alec Guiness was born to be a captain...great seafaring romp.
Barry Lappin
Super Reviewer
Damn the Defiant! Quotes
There are no approved quotes yet for this movie.
Discussion Forum
Discuss Damn the Defiant! on our Movie forum!