Damned By Dawn
(2009)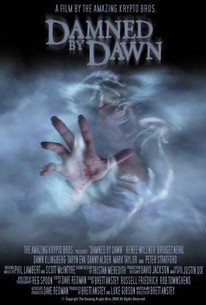 AUDIENCE SCORE
Critic Consensus: No consensus yet.
Movie Info
A young woman visiting her dying grandmother pays a high price for interfering with death in this energetic horror yarn inspired by the films of Sam Raimi. Somewhere on a farm in the deep country, Claire's (Renee Willner) grandmother is knocking on death's door. When Claire fails to heed the dying woman's warning not to meddle in the banshee's business, the dead rise up to stake their claim on the living. The mayhem starts when the sun goes down, and anyone unfortunate enough to be on this farm when all hell breaks loose is sure to be Damned by Dawn.
Rating:
R (for bloody horror violence and some language)
Genre:
Directed By:
Written By:
On DVD:
Runtime:
Studio:
Critic Reviews for Damned By Dawn
All Critics (2) | Fresh (1) | Rotten (1) | DVD (1)
while Anstey is happy to pillage motifs wholesale from the Evil Dead trilogy and Straight to Hell, he lacks the pacing, and more importantly the humour, to make such materials seem anything less than hand-me-downs that have seen much better days.

Audience Reviews for Damned By Dawn
Damned by Dawn (Brett Anstey, 2009) Usually when I say "they weren't even trying" in a review, I'm talking about the worst thing about the movie/book/whatever in question. And when you've gotten to that level, there's usually not that much farther to descend. However, just as there's always at least one faster gunslinger out there, there's always one step below the worst thing you had ever thought you'd seen. When I say that Damned by Dawn's scriptwriter, director, and various assorted other connections weren't even trying to disguise the movie's status as a shameless ripoff of The Evil Dead 2: Dead by Dawn, I'm telling you the best thing about this movie. Yes, believe me (because unless you are a glutton for punishment you will never, ever want to watch this movie): it gets worse. If you've seen Evil Dead 2, the plot here will be very familiar to you. The only difference is the method of demon-infection, which here comes from a banshee (Bridget Neval in her big-screen debut). Other than that, it's pretty much identical-a bunch of young-and-beautifuls turn into demons and try to kill the final girl. You know, your usual weekend getaway. You sit there watching some movies, at least if you're me, and you keep asking yourself how in the world they got made. Damned by Dawn is one of those movies. At least it doesn't try to hide this; the DVD cover of the Australian version has the tagline "sick of waiting for Evil Dead 4? Check out..." Nice to see that someone had a sense of humor about it, at least. I, on the other hand, didn't. Everything about this movie is awful. The acting, the direction, the soundtrack, the lighting, the cinematography. I'm sure the catering was sub-par. Maybe that's the key. Had they got a caterer who knew that beef wellington wasn't make from emu... *
Robert Beveridge
This film was great! The grandmother scared the crap out of me. It had a pretty good plot with very interesting scenes\imagery. But it did get a little off topic from the beginning's main storyline.
Jacob Palacio
Super Reviewer
½
Seen many movies about banshees? Me either, so this little Evil Dead wannabe, so very eager to please its audience, was a delightful viewing. Nothing really groundbreaking, but still fun.
Damned By Dawn Quotes
There are no approved quotes yet for this movie.