Dan Aykroyd Unplugged on UFOs
(2005)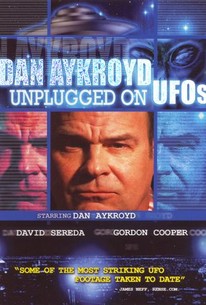 AUDIENCE SCORE
Critic Consensus: No consensus yet.
Movie Info
Everyone knows that famous SNL alum Dan Aykroyd can keep an audience in stitches, but in this release that teams the former Conehead with renowned author and UFOlogist David Sereda, startling new evidence and intriguing interviews with astronaut Gordon Cooper, Canadian Defense Minister Paul Hellyer, NASA engineer John F. Schuessler, and even former U.S. president Ronald Reagan offer compelling evidence that humankind is not alone in the universe. In addition to a look at formerly classified military footage and NASA Space Shuttle video that lends legitimate credence to theories once considered outrageous by the mainstream, Aykroyd and Sereda sit down for an intelligent discussion on the existence of UFOs before Aykroyd speaks unguardedly about his personal views on quantum physics, UFOs, and life on other planets.
Rating:
NR
Genre:
Directed By:
On DVD:
Runtime:
Studio:
Graviton Productions
Critic Reviews for Dan Aykroyd Unplugged on UFOs
There are no critic reviews yet for Dan Aykroyd Unplugged on UFOs. Keep checking Rotten Tomatoes for updates!
Audience Reviews for Dan Aykroyd Unplugged on UFOs
½
Probably would have been better with about 20 minutes cut out of it. Previous review nails it pretty well and although Aykroyd is well versed on the subject you're left wondering when he talks about a shelved UFO tv series if this "doc" is an attempt to generate some "buzz" on that series. The highlight has to be the Gordeon Cooper and Candian Defense Minister interviews.
Bobby Diablo
Mr. Aykroyd is obviously passionate about the subject, but the passion is barely translatable in this 81 minute dry, repetitive documentary. The material presented would have been much better delivered in a short film, as there really is only about 20-30 minutes of usable stuff here. Rehashing the same 3 or 4 minutes of UFO video clips and photos wore on me after about the 6th time around and while Aykroyd is engaging and likeable, those interviewed are completely not. Unplugged on UFOs? Not so much. Uninteresting and Unedited? Yeah, a little closer to the mark.
J Barrett
Concepts in the movie are cool like the idea of tranforming matter into pure energy for space travel but very dry and at times feeling of "give me a break"! happen frequently.
Arthur Pinkham