Dancing Queen
(2012)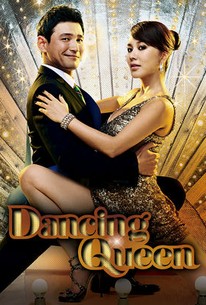 AUDIENCE SCORE
Critic Consensus: No consensus yet.
Movie Info
Jung-hwa, also known as Shinchon's Madonna, was famous in her heyday as the talent of the town. Offered the once-in-a-lifetime opportunity of becoming a Korean pop star in the past, Jung-hwa still dreams of the life that was never pursued now as a wife and mother. One day, Jung-hwa finds herself scouted into a newly emerging girl pop group, after her chance encounter with the man who had offered her stardom in the past. But chasing her thrilling dream comes to an abrupt halt by her husband's shocking declaration: He's running for mayor of Seoul. Playing the wife of a political candidate at the same time as becoming Korea's #1 Dancing Queen, Jung-hwa takes on a dangerous double life that may destroy her dreams or her husband.
Critic Reviews for Dancing Queen
All Critics (2) | Fresh (2) | Rotten (0)
Rom-com fantasy that dips precariously into real feeling late in the reels, and because leads Hwang Jung-Min and Um Jung-Hwa have real talent for empathy, we're carried along.
The third act doesn't put a foot wrong in that rousing, feel-good way that is the only real reason that these types of films exist.
Audience Reviews for Dancing Queen
½
This was a good movie until, of course, the last 20 minutes or so when the melodrama kicked in. It's not a surprise since, apparently, melodrama is a big part of some Korean cinema and television. I remember watching this film called Lifting King Kong, it was a Korean film, and the last 25 minutes were, I shit you not, the main characters loudly sobbing. It simply did not stop and it was awful. It was absolutely beyond awful and I wouldn't even torture my worst enemy with this, that's how bad it was. It took a decent movie and made it into a horrible one. Personally, and I'm sure the majority of people will agree with me, subtlety is far more effective than hysterics and cheap and manipulative tactics. That's just FACT. While this film wasn't THAT bad as far as melodrama went, and I think this is mostly due to the fact that the leads are great and they, as bad as it was, did the best they could with the hand they were dealt, it still made me give the film a lower rating. I just wish a comedy could stay a comedy instead of trying to force drama that shouldn't be there into the film. And that's what happened here. Why would the agent care if Jung-hwa has a child and if she's married? Why would that play a role in whether the agent or not contracted her? It just seems to me, I'm sure it's not completely unrealistic, that if she's talented that the agent shouldn't give a fuck if she's married or has a child. It's completely irrelevant to the fact that she's talented. Is she less talented because of it? I realize I'm completely over-analyzing the film but it's to prove a point that the drama is forced into the film by way of Jung-hwa not telling her agent that she's married and has a child and how that, in turn, ends up affecting Jeong's political career. On the good side though, Hwang Jung-min, who's a great actor, and Um Jung-hwa make a great couple. They're very entertaining together and it's a feel-good film for the most part. And both Jungs' likability adds to that. I'd still say this is a pretty good film, nothing that will stick with you in the long haul, but a film that is undone by its unnecessary dramatic aspects.
Jesse Ortega
Super Reviewer
Dancing Queen Quotes
There are no approved quotes yet for this movie.