Dandelion Dead
(1994)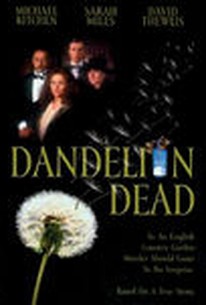 AUDIENCE SCORE
Critic Consensus: No consensus yet.
Movie Info
A man who knows the importance of clearing out the weeks in one's garden begins to wonder if the same principles apply to the people around him in this made-for-TV drama, inspired by a true story. Maj. Herbert Armstrong (Michael Kitchen) was an attorney and clerk to the magistrate in the Welsh community of Hay-on-Wye in the early 1920's. One of Armstrong's great passion was gardening, and he took unusual pride in the appearance of the greenery around his home. Cursed with a patch of stubborn dandelions, Armstrong purchased a large supply of an arsenic-based weed killer to put an end to the problem once and for all. But when Armstrong's wife Catherine (Sarah Miles) and rival in business Oswald (David Thewlis) -- both of whom had recently raised Armstrong's ire -- both turned up dead, apparently poisoned with arsenic, investigators began to wonder if this was really a mere coincidence. ~ Mark Deming, Rovi
Rating:
NR
Genre:
, ,
Directed By:
Written By:
In Theaters:
On DVD:
Runtime:
Critic Reviews for Dandelion Dead
There are no critic reviews yet for Dandelion Dead. Keep checking Rotten Tomatoes for updates!
Audience Reviews for Dandelion Dead
I knew of this story before. As with that of Graham Young, it's contained in a book I've owned for years about various poisoning cases. They are there along with Drs. Crippen and Cream, Madeleine Smith, and others, each story taken from the annals of true crime. Some of the stories are a little more high-flown in language than others; this was one of them. However, what both that essay and this miniseries try to convey is the horror that small-town solicitor Oswald Martin (David Thewlis) must have felt must have felt as the intended victim of Major Herbert Rowse Armstrong (Michael Kitchen). It seems funny, I think, that he feels so much horror when the weapon is poison, surely an easy one to avoid. And, of course, Martin could not know that the Major had already killed his wife, Catherine (Sarah Miles). However, the two men lived in a small town and shared a profession. It was not only possible but probable that they would be required to meet over meals. They were both members of the same Masonic lodge. Again, small town. They were the two solicitors working there. In the 1920s, in rural Britain, meetings about business over tea were a distinct possibility. Armstrong attends Martin's wedding. Had this town had a Chamber of Commerce or a town council, these are men who would reasonably be expected to be on it. Martin, before it is proven that he has been poisoned but after it is suspected, is told not to eat in public. Can you imagine? And, of course, it doesn't help that the Major follows him around inviting him for meals. The Major, before Martin apparently gained any sense, sent an anonymous box of chocolates that had been poisoned, rendering Martin's sister-in-law seriously ill. Eventually, it begins dawning on people that the similar symptoms the Major's wife experienced might just be arsencial poisoning as well. Since Martin's wife, Connie (Lesley Sharp), is the daughter of the local pharmacist, and therefore reasonably well-informed about the town's medical issues, it's likely she knew how excruciating Mrs. Armstrong's death was. What's even more striking, I think, is the Armstrongs' eldest daughter, Eleanor (Chloe Tucker). I don't know how accurate their portrayal of her is. Wikipedia, the first refuge of the lazy researcher, has an article on [i]a[/i] Herbert Armstrong, but not the one we're discussing here. (Random side note--the Herbert Armstrong they have a page for is a religious weirdo who founded Ambassador College in Pasadena, CA; I've played many times in the associated Ambassador Auditorium, as has pretty much any kid who spend half so many years as I going through the music department of the Pasadena Unified School District.) Ergo, without putting more effort into it than I'm prepared to for this, I cannot even be certain that Armstrong [i]had[/i] a daughter named Eleanor, or even any children at all. However, in this instance, we are more interested in Eleanor the character. She was clearly closer to her father than her mother, which only made things worse when her mother died. She carried a burden of guilt for that herself, and it made her as brittle and snappish as her mother had been. (We don't know her mother's reasons.) She is a striking character and a fine young actress. This is a lengthy production; it is, after all, a miniseries. In places, it can be rather dry, despite the obvious talents of its performers. However, the production values are quite high, and while some scenes feel rather disconnected from the main story, they all build up to the climax. We must surely be aware from the beginning, or at least from the first hour, what Armstrong's eventual fate will be. But it is quite interesting to watch him go to it.
Edith Nelson
Dandelion Dead Quotes
There are no approved quotes yet for this movie.
Discussion Forum
Discuss Dandelion Dead on our Movie forum!