Dangerous Liaisons
(2012)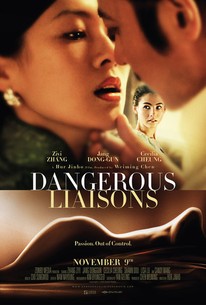 Dangerous Liaisons Videos
Dangerous Liaisons Photos
Movie Info
A Chinese adaptation of the French novel Les Liaisons Dangereuses begins with aging socialite Mo Jieyu (Cecilia Cheung) who finds herself circling ex-boyfriend Xie Yifan (Jang Dong-kun). Mo, the rich and charming widow with a taste for pleasures, still has eyes for famous womanizer Xie, who secretly burns with love for her. And yet, in his luxurious life, Xie's new interest lies in chaste humanitarian Du Fenyu (Ziyi Zhang), who has captured his attention and earned his desire for conquest. Mo lures Xie into a treacherous, dangerous game of hearts: win, bed, and leave Du, proving his mettle as a rogue and impossible catch. But can Xie take the honor of such a woman, without losing his own heart, as well? (c) Well Go USA
Rating:
NR
Genre:
,
Directed By:
Written By:
In Theaters:
On DVD:
Box Office:
$18,016.00
Runtime:
Studio:
News & Interviews for Dangerous Liaisons
Critic Reviews for Dangerous Liaisons
Audience Reviews for Dangerous Liaisons
This is a very entertaining movie. It is effectively a remake of the American 1988 film, starring Glenn Close and John Malkovich. The 1988 movie was better crafted over-all. This film is set in Shanghai, 1931. The Japanese have invaded Manchuria; and are threatening all of China. There are refugees in Shanghai. The war is a background story. The sets and costuming are very well done. The major characters are all very good. The Glenn Close character, Ms. Mo (Cecilia Cheung) was very good. She has that elegant look you would expect from this character. She also pulled off her image as a scheming female in a male dominant society. However, Glenn Close was better. The most impressive character is Fenyu (Zhang Ziyi)(ie. in Michelle Pfeiffer's role). Her unraveling, after being cruelly dumped by Xie (Jang Dong-gun)(ie. in the J. Malkovich role) was tough to watch. Ms. Zhang is a very impressive actress. She is the equal of any current Western actress. The seducer, Xie, was adequate. But, he did not sell the smarmy, morally corrupt, driven character that Malkovich did so very well. No one plays smarmy, better than JM. This is a very good dramatic story. The costuming, the sets, the scheming, the sexual seduction/play, and the corruption and heart-break of innocents is hard to equal elsewhere. This Chinese remake is a worthy effort, with an Asian point-of-view.
ray h
I saw a preview for this movie when I watched "A Simple Life." I thought it would be interesting to see this soap opera take place in 1930s Shanghai done by a Chinese film company. But it's heavy on the soap, light on the Shanghai ambiance. Not great, not horrible. Can't recommend it but it wasn't a mistake either.
Kem White
China has finally adapted its very own film verson of the 1782 French novel Les Liaisons Dangereuses (Stephen Frears has still done it best with Glenn Close, John Malkovich and Michelle Pfeiffer in 1988). While remaining fairly faithful to the source material's central story of scheming and seduction among high society, this version has updated the novel to 1930's Shanghai which provides the film with some splendid imagery although adding little else to the story. It is beautiful to look at but this adaptation leaves out some of the novel's most rewarding moments. Mo (Cecelia Cheun) and Xie (Dong-gun Jang) plot to ravish a young virgin before her wedding night to one of Shanghai's elite; but when Xie sets his eyes upon the saintly young widow Du (Ziyi Zhang - Crouching Tiger Hidden Dragon, Memoirs of a Geisha) he'd rather make her his next conquest. The story has been told before and updated for American audiences with Cruel Intentions, so it is a well-known plot. The story unfolds without surprise; but this version fails to capture the novel's final judgment upon immorality by changing this version's ending. While it is nice to have a twist -- that element is necessary to that tale in my opinion and it leaves this film version without a compass. As mentioned -- it is a beauty of a film as the 3 stars are all attractive, the art direction is 1930's exotic Shanghai and the costumes are simply devine.
Thomas Williams
Dangerous Liaisons Quotes
There are no approved quotes yet for this movie.
Discussion Forum
Discuss Dangerous Liaisons on our Movie forum!