The Dangerous Lives of Altar Boys
(2002)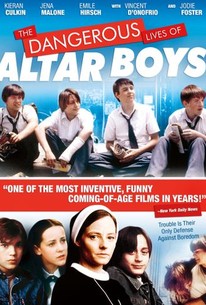 TOMATOMETER
AUDIENCE SCORE
Critic Consensus: The inter-cutting of animation by Spawn's creator, Todd McFarlane, doesn't always work, but the performances by the young actors capture the pains of growing up well.
Movie Info
Peter Care's debut feature The Dangerous Lives of Altar Boys follows a handful of parish school adolescents who try to figure out who they are. Francis Doyle (Emile Hirsch), Tim Sullivan (Kieran Culkin), and their friends struggle against the stultifying repression of their school, personified by Sister Assumpta (Jodie Foster). One of the boys is a talented artist whose drawings lead to animated sequences in the film that were drawn by Spawn creator Todd McFarlane. Vincent D'Onofrio and Jena Malone round out the cast of this film, which was screened at the 2002 Sundance Film Festival.
People Who Like this movie also like
News & Interviews for The Dangerous Lives of Altar Boys
Critic Reviews for The Dangerous Lives of Altar Boys
Audience Reviews for The Dangerous Lives of Altar Boys
½
Based on the title, you might think this has something to do with the church sex abuse scandals that were all over the media around the time this film came out. In actuality, it's based on a book (which I haven't read) about two best friends and altar boys in the 1970s who resort to making their own lurid comic book, pulling dnagerous and risky pranks, and casually experimenting with drugs and alcohol to deal with boredom. There's more to it of course, such as the boys dealing with various facets of growing up and learning life lessons. What sets the film apart are some bombastic and very colorful animated sequences which parallel the main action and help to flesh out some stuff (mostly inner thoughts and feelings) that is probably elaborated far more in the book (which is probably better anyway. I did like this though, because it is entertaining, and it's got some great music Marco Beltrami and Josh Homme, as well as some credible actors giving some credible performances. Despite the terrific work from Culkin, Hirsch, Malone, D'Onofrio, and Foster, and the great animation work from Todd McFarlane, this film feels very uneven and it tries to blend a lot of stuff together, including some rather really dark revelations about a certain character. I didn't think it gelled all that well, especially since some of the shifts in tone can be quite jarring. I didn't think it was enough to totally sink the movie, though. I just think it could have been handled better, namely with some stronger writing.The movie could have done a tad better job of establishing the time and place, but that's really just a bitchy nitpick. All in all, this movie is flawed, but it has good intentions, and the animated stuff is really cool. Plus, seeing D'Onofrio and Foster as a priest and a nun respectively was an odd joy for me, and I thought those were some surprising (in a good way) touches. You should maybe give this a watch. It could be better, but it's decent enough for a rainy day watch.
Chris Weber
Super Reviewer
CAST: Emile Hirsch, Kieran Culkin, Jena Malone, Jodie Foster, Vincent D'Onofrio, Jake Richardson, Tyler Long, Kelvin O'Bryant DIRECTED BY: Peter Care SUMMARY: When a gang of eighth-grade Catholic school students (including Kieran Culkin and Emile Hirsch) gets caught drawing an obscene comic book, they seek revenge for their punishment -- and a reputation as school legends -- by planning a prank on a mean, one-legged nun (Jodie Foster). MY THOUGHTS: "This film had everything in it from hypocrisy, incest, animation, death, and religion. I guess a bit of everything. The film had the feel of the movie 'Stand By Me' when it comes to the four boys relationships. Just really good acting from all the young cast. It makes the movie that much more enjoyable when the acting is good and believable. The story itself is honest and funny. It's also sad. The way Kieran's character is mostly acting out just to get his parents to notice him. Jena Malone's character is seriously disturbed and needs a good therapist. I really felt bad for her, and yet kinda grossed out by what she did to her brother. The ending was unexpected and totally made me cry. The poem he read is what broke me, lol. If you were a rebel in school then you will relate or like this movie. Its definitely worth the watch. Great story and really good acting, especially by Hirsch and Culkin."
♥˩ƳИИ ƜѲѲƉƧ♥
Super Reviewer
A movie about tweens that can't be seen by tweens, completely useless. I liked the cast and their were some good early performances from Kieren Culkin and Emile Hirsch, but it was just way too childish a movie. Instead of being original, it was just really corny and pointless.
Conner Rainwater
Super Reviewer
The Dangerous Lives of Altar Boys Quotes
There are no approved quotes yet for this movie.