La Diagonale du Fou (Dangerous Moves)
(1984)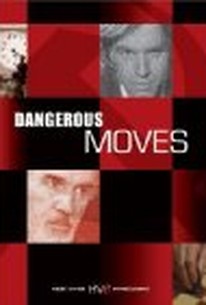 La Diagonale du Fou (Dangerous Moves) Photos
Movie Info
Michel Piccoli plays Akiva Liebskind, a Russian chess genius in the Swiss-filmed Dangerous Moves. He is pitted against Soviet exile Pavius Fromm (Alexandre Arbatt), who, since childhood, has dreamed of nothing but defeating Liebskind. Both men soon become obsessed with winning. Already suffering from a weak heart, Liebskind courts a coronary, while the increasingly paranoid Fromm is convinced that his opponent is spying on him from every corner. The KGB enters into the game by attempting to sabotage Fromm, hoping that by doing so they will discredit everyone who's ever publicly opposed the Soviet government. Dangerous Moves was the 1984 recipient of the Best Foreign-Language Picture Academy Award. ~ Hal Erickson, Rovi
Critic Reviews for La Diagonale du Fou (Dangerous Moves)
Audience Reviews for La Diagonale du Fou (Dangerous Moves)
½
Taut, well acted Cold War type political thriller in which the battlefield is the world championship chess match between a Soviet and a Soviet defector. Won the Best Foreign Language Oscar. Excellent movie.
Morris Nelms
Super Reviewer
A Soviet exile and a Soviet citizen are pitted in a high-pressure chess match. While some of the events, like the witch doctor in the audience, are funny and interesting, as a whole, this film is about as exciting and entertaining as you'd think a film about chess would be. What the film fails to do is get into the heads of these players to the point that their machinations raise to the level of compelling drama. Overall, I balk at calling a film boring, but honesty compels me to say that Dangerous Moves is kinda boring.
Jim Hunter
Super Reviewer
La Diagonale du Fou (Dangerous Moves) Quotes
There are no approved quotes yet for this movie.