Dante's Inferno
(1935)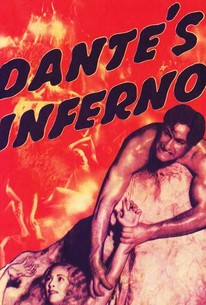 AUDIENCE SCORE
Critic Consensus: No consensus yet.
Movie Info
Carnival barker Spencer Tracy befriends elderly concessionaire Henry B. Walthall, who owns a picturesque but stodgy display depicting Dante's Inferno. Walthall is more interested in the spiritual aspects of Man's fascination with Hell, but Tracy uses hoopla and exaggeration to get the suckers into the Inferno. His interest isn't altruistic; Tracy is enamored of Walthall's niece, Claire Trevor. Through his publicity savvy, Tracy builds the Inferno into a major attraction, complete with full orchestra and scantily clad "devil girls". He also buys up the rest of the carnival, using cold-blooded tactics that result in the suicide of a fellow concessionaire. Within five years, Tracy is a millionaire tycoon of the Entertainment industry. While loved by his wife (Trevor) and son (Scotty Beckett), Tracy conducts his business ruthlessly, bribing a city official to look the other way regarding structural defects in his Inferno display. When this duplicity results in a disastrous accident at the exhibit, the bribed official kills himself. Tracy is exonerated thanks to legal chicanery, but his wife is fed up; she walks out on him, taking their son along. Injured in the accident, Inferno creator H. B. Walthall warns Tracy of the pitfalls of success, using an illustrated edition of Dante to make his point. For nearly ten minutes, the movie audience is treated to a lavish depiction of Hell, magnificently photographed by Rudolph Mate. When the plot resumes, Tracy is on hand for his latest venture, a sumptuous gambling ship. Thanks to the drunken negligence of the crew, the ship catches fire, and it is only upon learning that his son has sneaked aboard that Tracy realizes the consequences of his greed. Tracy labors heroically to rescue the passengers--and, incidentally, to atone for his past sins.
Critic Reviews for Dante's Inferno
There are no critic reviews yet for Dante's Inferno. Keep checking Rotten Tomatoes for updates!
Audience Reviews for Dante's Inferno
½
Meet the girl who put the knock in knockout Jim Carter unveils a new act after convincing investors that this act will make tons of money. The attraction, Dante's Inferno, is a hit; however, bad luck ensues and the attraction goes up in flames killing numerous patrons. Carter starts a new attraction of a floating casino. Will Carter's bad luck follow him onto the boat? "My old man was a contortionist." Harry Lachman, director of Charlie Chan in Rio, The Castle in the Desert, It Happened in Hollywood, Charlie Chan at the Circus, and Our Relations, delivers Dante's Inferno. The storyline for this picture was fascinating and supposedly taken from true life events that occurred at Coney Island. The story was interesting but not great and the acting was just okay. The cast includes Spencer Tracy, Claire Trevor, and a glimpse at Rita Hayworth. "Well it looks like you'll have to live in comedy the rest of your life..." So I came across this picture while flicking through Turner Classic Movie (TCM) and saw the plot of a circus burning down and the devil being involved and had to see it. I did like aspects of the film but the execution was kind of clumsy and there were some scenes that seemed out of place. I am glad I watched this film but was a bit disappointed. "We make our own heaven or hell...here on Earth." Grade: C
Kevin Robbins
½
A pretty straight forward moral play. Some of the visuals are really cool though and worth the hour and a half investment.
Joe Sicari
Dante's Inferno Quotes
There are no approved quotes yet for this movie.
Discussion Forum
Discuss Dante's Inferno on our Movie forum!