Dark Age
(1988)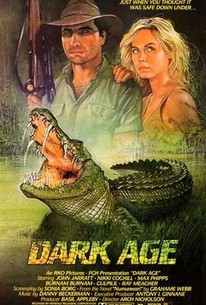 AUDIENCE SCORE
Critic Consensus: No consensus yet.
Dark Age Videos
Dark Age Photos
Movie Info
Dark Age could also be titled The Dark Side -- of Crocodile Dundee, that is. This Australian action-packed thriller concerns the illegal hunting of crocodiles in the outback. But you'll find no Paul Hogan or (worse luck) Linda Kozlowski this time. Instead, we have a skulk-and-snap chiller straight out of Jaws. The action in The Dark Age is very involving -- much more so than the dialogue, which is obscured by the actors thick Aussie dialects.
Rating:
R
Genre:
, ,
Directed By:
Written By:
In Theaters:
Runtime:
Studio:
Nelson Entertainment
Cast
Critic Reviews for Dark Age
All Critics (1) | Fresh (1) | Rotten (0)
It's well-produced and acted, and an intelligent environmental adventure film results.

Ozus' World Movie Reviews
Audience Reviews for Dark Age
½
There has been so many rip offs of Jaws since its release in 1975 that many animals and other creatures have been used as a plot device to terrorize the inhabitants of a town whether it's on sea or land. With Dark Age, the sinister beast is a giant crocodile that wrecks havoc. This is a good movie that takes place in the Australian outback. John Jarrat (who would later play the villain in Wolf Creek) stars as Steve Harris, the ranger tasked with hunting the giant croc. This is a well thought out creature feature that has a good plot and effective acting to keep you interested. However this is an overlooked gem, as many other croc themed films have surfaced since, and this one is kind of a forgotten low budget B movie. The film relies on a good sense of atmosphere and slow pacing to steadily build up the fear and dread in the viewer. Director Arch Nicholson crafts a very good pulse pounding nature gone wild film that is much darker than other films in the genre. The tone is more serious and never tongue in cheek. There are also some pretty good kill scenes and the croc has a serious appetite and feeds on just about anything. I thoroughly enjoyed this film, and I think it is a standout film in the genre with a good plot, good acting and a dark, ominous score that adds to the experience, you owe it to yourself to check this film out as it is a smartly crafted horror film that just doesn't go right into the action, but slowly builds up the fear right up till the first kill. There have been quite a few croc films, but I have to say that Dark Age is one of the best that I have seen.
½
Dark Age is another entry in the continuing sub-Horror genre of nature run-amok/killer animal films that were popularized by Jaws way back when. While countless rip-offs and duds have been produced in the U.S. every day it seems, Australia carefully and methodically put out consistent entertaining and engaging nature run-amok films and Dark Age is no exception. Dark Age takes place in the Australian outback as a massive crocodile the aborigines call Numunwari and praise starts killing locals one by one. In comes park ranger and crocodile rescuer Steve Harris (played by a young, trimmed down John Jarrett who would later play the infamous killer in Wolf Creek) who tries to work with the aborigines in capturing the croc, all while getting heat from the government to kill it, trouble from the drunken hillbilly locals, and reconnecting with his former girlfriend. Dark Age contains all the popular aesthetics and cultural authenticity of Australia, mixed in with a fun and entertaining story. The deaths aren't exactly anything to write home about (save for one nice and twisted child death), but the film manages to be amusing nonetheless. There's an engaging climax that's eerily reminiscent of Free Willy, which is considerably unexpected given that this is a horror film. I'd like to see this get the DVD treatment one day. It's a fun movie that deserves it. Not bad.
Jason Duron
Like the Aussies review of Razorback, this is a beautiful movie with a $10 pig. I was, however, completely shocked when the alligator ate the baby!!! ANd I sadly dozed and missed Burnham Burnham being tossed from a jeep. :(
Kayla Kromer
Discussion Forum
Discuss Dark Age on our Movie forum!
News & Features