Dark Angel: The Ascent
(1994)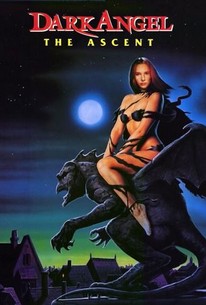 AUDIENCE SCORE
Critic Consensus: No consensus yet.
Movie Info
A beautiful devil-girl tires of torturing the souls of the damned and so busts out of hell to visit the mortal plane. Finding it nearly as debauched and wicked as her home, the girl decides to take care of the villainous and evil before they get down to the Devil's domain. Soon the blood begins flowing like sacramental wine. During an accident she is seriously wounded, and a kindly young doctor helps her recover and as he does, she cannot help but fall in love with him.
Critic Reviews for Dark Angel: The Ascent
There are no critic reviews yet for Dark Angel: The Ascent. Keep checking Rotten Tomatoes for updates!
Audience Reviews for Dark Angel: The Ascent
½
Classic Charles Band stuff this, a real B-movie :) not that its terrible I might add, it not too bad really, the plot is rather odd and makes no real sense, something about a devil girl leaving hell and coming to earth to see what its like and falling in love whilst ridding the living of evil folk. Pretty weird and pointless with many questions but we won't delve further into it as I'm sure it doesn't matter. Cast is unknown but not totally useless, Angela Featherstone is the only name here, effects are dodgy to say the least but some makeup isn't all that bad. Gotta love these Full Moon gems.
Phil Hubbs
Super Reviewer
½
10/11/2010 (ONLINE)

It's a pretty good attempt for a fantasy horror and I like stories like this however this was a little too amateur for my liking but I was able to see it to the end.

I reckon this would of done well as a TV series because there so much you can add to this but anyways... I've seen worse but it's not annoyingly bad for me but rather bad in a way where it could of been better if done with a little more skill.

The beginning was interesting but the rest of the movie just needed a little more tasteful arranging. I didn't hate it and I think it would be a hit if some decent film-makers gave it some serious thought because she is pretty much the girl version of "Hell Boy" and "Hell Boy" was a hit.
EightThirty .
Super Reviewer
½
The acting is horrible. The visuals of hell were pretty good, though. I did like how in the middle of hell where people are getting tortured in horrible ways a teenage girl is like, "this totally sucks. I'm cupped up all day. I'm bored and want to get out." - Total complete insensitivity. I don't know if I liked how the demons were following God's orders and were more religious than anyone. In the end, this movie was really really put together badly. The acting was what killed it. The rest of this movie was salvageable, but there was only one actor, the doctor, was even partially believable and his acting was very far from good. This could have been pretty bad ass. You can see from the hell scene that it didn't look bad at all. This had a lot of potential, but it came out looking cheap and unbelievable.
John Trifiletti
Dark Angel: The Ascent Quotes
There are no approved quotes yet for this movie.
Discussion Forum
Discuss Dark Angel: The Ascent on our Movie forum!