Dark Feed
(2012)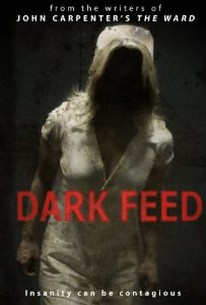 AUDIENCE SCORE
Critic Consensus: No consensus yet.
Movie Info
When a film crew moves into an abandoned psychiatric hospital with a shadowy past to shoot a low budget horror film, they get more than they bargained for. The late nights and lack of sleep begin to take a toll, and the longer this crew works, the more the leaky, wet building seems to be coming back to life, feeding off its new inhabitants. As the shoot wears on, members of the crew exhibit increasingly strange behavior leaving those still sane realizing they need to get out of this place before they too succumb to the building's infectious hold, the only problem, the old hospital is not ready to let them go.
Rating:
R (for bloody violence and language)
Genre:
Directed By:
Written By:
On DVD:
Runtime:
Studio:
Critic Reviews for Dark Feed
All Critics (2) | Fresh (2) | Rotten (0)
Mostly stuff you've seen before, only here it's been re-heated and reconfigured into a crafty little creeper that actually works.

Dark Feed is pretty enjoyable as soon as everyone begins to go batshit crazy and the violence kicks into high gear.
Audience Reviews for Dark Feed
½
Dark Feed (Michael and Shawn Rasmussen, 2013) I'm not entirely sure what possessed me to give Dark Feed a go. I mean, it was kind of doomed from the start. But still, I figured there might still be a touch of meat left on those old bones. And I still believe that, somewhere, there might be. It is not to be found here, however. Premise: a film crew rents an abandoned, and supposedly haunted, asylum for a bit. They move in, set up shop, and start filming a low-budget horror movie. But soon enough they discover that either they've got a psycho in their midst or the place really is haunted. Sound familiar? It should if you've watched a few horror movies. This is a run-of-the-mill haunted house flick with the requisite bevy of attractive women and brainless men. There's one character who points to the Rasmussen brothers intending this as a satire of the movie industry (or perhaps just the big studio system), but if so, that message kind of got lost in the mix; it's certainly not done here as well as it is in, say, Golia's Killer Shrimps. I ended up feeling like if they'd puched the envelope anywhere at all in this movie, done one thing different than everyone else making low-budget DTV horror, I might have found something more to enjoy in it. Sadly, that was not the case. * 1/2
Robert Beveridge
½
As far as independent horror films go, this one is basically the dictionary definition of "okay". The concept of the movie seems fresh enough, but it was ultimately ruined by not delivering a haunting atmosphere akin to something like 'Grave Encounters', another low-budget psych ward horror flick (that I highly recommend). I personally think the found-footage gimmick would have actually helped this movie quite a bit. Just insert a guy filming special features for the movie the characters in the film are making and have him accidentally capture creepy shit. Sure, it would be a copy of 'Grave Encounters', but maybe that's not such a bad thing. In any case, 'Dark Feed' is entertaining enough to sit back and laugh at I guess. Simply put, I've definitely seen worse, and better.
Jonathan Morgan
½
A modestly entertaining, but thoroughly derivative film, Dark Feed does not quite reach the Silent Hill level of creepiness that its cover promises. Still, it is a reasonably entertaining supernatural horror film for horror fans that need something to watch.
Al Miller
Dark Feed Quotes
There are no approved quotes yet for this movie.
Discussion Forum
Discuss Dark Feed on our Movie forum!