Dark Prince: The True Story of Dracula
(2000)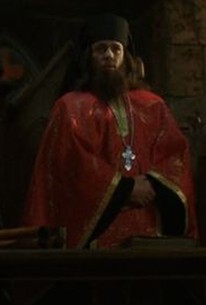 Dark Prince: The True Story of Dracula Photos
Movie Info
Parting company with the traditional filmic representations of vampire supreme Count Dracula, this made-for-cable film harks back to the known facts concerning Dracula's real-life "role model," 15th century Transylvanian patriot Vlad Drakul (translation: "Knight of the Dragon"). Hoping to avenge the death of his monarch father, and to free his kingdom from Turkish rule, Vlad (Rudolf Martin) raises an army and stages a revolution, cutting a bloody swath throughout the land. Though a basically sympathetic character at the beginning of his mission, Vlad becomes progressively more murderous and sadistic as the war rages on; he is particularly fond of impaling his victims and hanging their writhing bodies on walls and trees, hence his nickname "Vlad the Impaler." In so doing, he runs afoul of the Orthodox Church, which begins spreading rumors that Vlad is not only a sadistic killer, but also a genuine blood-sucking vampire. All of this hardly matters to Vlad who, in addition to rescuing his people from Turkish oppression, is also bent on settling a score with his treacherous brother Radu (Michael Sutton), who has gone over to the enemy. Filmed on location in Romania under the title Passions of Dracula: A True Story, Dark Prince: The True Story of Dracula made its American TV bow over the USA Network on October 31, 2000.
Rating:
R (violence)
Genre:
Directed By:
Written By:
In Theaters:
On DVD:
Runtime:
Studio:
Kushner-Locke Company
Critic Reviews for Dark Prince: The True Story of Dracula
Audience Reviews for Dark Prince: The True Story of Dracula
Though not released in theaters I believe this is the only worthy tale of the historical Draculea. If it had only been given a bigger budget and perhaps had someone other than Jane March play Elizabeta it would've been as big as Francis Ford Coppola's Dracula. The historical Prince is someone that is often distorted into whatever Hollywood needs at the time. This doesn't gloss over the hard stuff (nor does it do more than brush the surface). Vlad Draculea III is considered a hero to the Romanian people even today. If you think about it, there is a reason for this- which the movie points out clearly. Rudolf Martin does justice to the role and captures the more pensive side of the 15th century warlord prince. If you're interested in what's behind Bram Stoker's story then see this movie!
Susan Terry
This had its moments, but overall, felt too tv-ish.
Tim Salmons
Super Reviewer
I thought this was a vampire film, nevertheless I watched the whole thing. I thought it was pretty good for what it was a historical / horror film.
Marion Ravenwood
Super Reviewer
Dark Prince: The True Story of Dracula Quotes
There are no approved quotes yet for this movie.
Discussion Forum
Discuss Dark Prince: The True Story of Dracula on our Movie forum!