Dark Reel
(2008)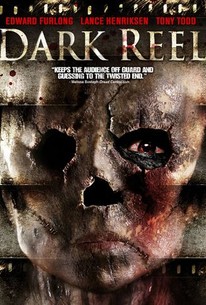 AUDIENCE SCORE
Critic Consensus: No consensus yet.
Movie Info
A long-dormant Hollywood mystery returns with ferocious intensity when an avid movie fan wins a walk-on role in an upcoming horror film and finds himself thrust into the center of a blood-soaked, behind-the-scenes killing spree. Adam Waltz (Edward Furlong) was beginning to think his life was going nowhere until the day he won a role in the latest shocker from high-powered studio chief Connor Pritchett (Lance Henrikson). But just as Adam meets scream queen Cassie Blue (Tiffany Shepis) and all his wildest fantasies start coming true, a serial killer begins stalking the set and slaughtering all of the actors. Scheming to cash in on the publicity while the bodies are still warm, Pritchett attempts to turn the low-budget thriller into a Hollywood hit. The first step is to expand Adam's role - not a difficult goal considering the actors are dropping like flies - though the future of the film comes into question when Detective Shields (Tony Todd) takes up the case. Shields is determined to get his man, even if it means shutting down the production altogether. Now everyone is a suspect, including Adam, and the only hope for getting the film made is to wrap up production before the entire crew gets sent home in body bags.
Rating:
R (for bloody horror violence, language and some sexuality/nudity)
Genre:
,
Directed By:
Written By:
On DVD:
Runtime:
Studio:
Critic Reviews for Dark Reel
All Critics (2) | Fresh (0) | Rotten (2)
Dark Reel comes so close to being a pretty decent horror flick but its being part ghost story and part slasher flick just end up making it seem like for me that someone filmed two separate movies and wove them together.
While I can't in good conscious recommend Dark Reel even as a rental, it might be worth a look on late-night TV for insomniac fans of the cast and admirers of whacky Hollywood send-ups.

Audience Reviews for Dark Reel
½
Featuring a myriad of B-movie actors, Dark Reel is a reasonably entertaining supernatural slasher film that never does anything truly original or scary but manages to be a reasonably engaging homage to B-level horror movies.
Al Miller
Nothing from the banal title would suggest that "Dark Reel" would be worth your time, but this is a surprisingly skillful and well written horror film. There's a great cast and a smart script that is quirky and funny, and the central story is a strong one that continually keeps you guessing. It centers on a low-budget film studio, and the behind the scenes stuff is a lot of fun. Lance Henriksen gives his best performance in years as a Roger Corman-like studio head. It's a part that refreshes his career and hopefully will awaken him from his B-movie funk. Also very good is Edward Furlong who also resurrects his career with a likable performance as a movie geek. His relationship with smart and sexy Tiffany Shepis is a treat, as it's fun watching the fan fall in love with his screen idol. They form a special bond that is the center of the picture, and it's a most unexpected pleasure. The film is focused on the story, which is solid and well told, but this is a horror film and it doesn't spare the blood and gore. A few of the murders are pleasantly memorable. There is maybe one too many twists near the end, including one that hints at Furlong being the killer, and I was glad to see the film not go that route. I liked him and his character too much. He's a down to earth guy who is not unlike myself. Unfortunately, it does go on a little long, especially in the finale, and it has trouble maintaining its pacing. The set-up, however, is a lot of fun mostly because of Henriksen's wonderfully offbeat performance and the uncommonly good script. "Dark Reel" is a film unjustly robbed of a theatrical release as it was better than a lot of the horror films I paid to see this year. It deserves to be seen.
Timothy Sanders
Dark Reel follows the story of a crew trying to shoot a low budget movie during filming one of the cast is killed and everyone could be a suspect includeing a fan that won a contest to have a small part in the movie as everyone is trying to figure out who the killer might be more of the cast start dropping like flies untill someone figures out that these killings lead back to a unsolved murder in the 40's of a little known hollywood actress. This movie was pretty bad from the start and kinda got worse from there the story could have been good maybe given a better cast and more budget but it looks like this was shot for nothing and to top it off you get to see a badly aged very bloated Edward Furlong as one of the leads two stars for very few of the scenes but overall it might be a waste to alot of peoples time.
Dark Reel Quotes
There are no approved quotes yet for this movie.