The Dark Wind
(1993)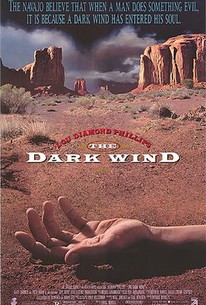 AUDIENCE SCORE
Critic Consensus: No consensus yet.
Movie Info
Noted documentary filmmaker Errol Morris made his dramatic feature debut with this story about murder and other dirty dealings on an American Indian reservation. Recent college graduate Jim Chee (Lou Diamond Phillips) has just taken a job with the Navajo Reservation Police in Arizona, where he helps keep the peace with his superior Joe Leaphorn (Fred Ward) on land earmarked for joint use by Navajo and Hopi tribes. Cowboy Dashee (Gary Farmer), a sheriff from the Hopi law enforcement group, discovers a decaying and unidentified body in the desert, an event he thinks may be linked to a recent robbery at the reservation's trading post. The shop's Hopi manager, Jake West (John Karlen), is convinced that Joe Musket, a Navajo drug dealer and ne'er-do-well, is responsible, and as Chee and Leaphorn investigate the murder, the robbery, and a mysterious plane crash, they find themselves drawn into a web of corruption, prejudice, and deceit. Dark Wind was based on a novel by noted crime author Tony Hillerman.
Rating:
R
Genre:
, ,
Directed By:
Written By:
In Theaters:
On DVD:
Runtime:
Studio:
Live Home Video
Critic Reviews for The Dark Wind
There are no critic reviews yet for The Dark Wind. Keep checking Rotten Tomatoes for updates!
Audience Reviews for The Dark Wind
½
The film's title is derived from a Navajo belief that a man who commits evil does so because a dark wind has blown through his soul. Lou Diamond Philips as the Navajo flatfoot. An Indian police officer is mixed up in murder & drug smuggling on the reservation. When a man is found dead, young Chee becomes drawn into a series of events that include a robbery, drug smuggling & a plane crash. I have long been a fan of Tony Hillermans Navajo murder mystery books. In 1991 I did not hear about this since it went straight to video. I am surprised it did not appear on network TV. A lot of very strange, seemingly unconnected things are happening that Lou is asked to look into. A decaying body of a Navajo, the vandalism of a windmill, a plane crash in the middle of the reservation, some missing heroin from said crash, & the burglary of the Navajo Trading Post, yet all are connected. & Lou winds up on a suspect list as well. I like Lou Diamond Philips as detective Jim Chee. Phillips was great at bringing out the lonely, depressive side of Chee's character. Film contains some very nice performances & a good story. The film was shot on location in & around the Navajo reservation in Arizona & New Mexico. The scenery is magnificent, I feel of this movie is true to the feel & action of the books as I have travelled extensively for years in an around NW New Mexico SW Colorado land. Robert Redford executive produced this & did a good thing in using American Indians as actors throughout the film. Director Morris combined the essence of the Chee character in a great manner ( -- the tension between the science & modernity of being an investigating law as opposed to native Navajo & Hopi beliefs) Window Rock completed a new Navajo Museum a few years ago & it's a fabulous place to see. Get yourself some mutton tacos while you are in Window Rock. The production values of this film were poor & since it went straight to video there are some problems in the film. I overlook that. Any film of Hillermans work is better than none. Some of the books have been made into a PBS mystery series. I have not seen those yet. I enjoyed this one so much I just queued the PBS 3 on netlfix tdoay.
dfw foreignbuff
SUMMARY mystery flick starring Lou Diamond Phillips, Fred Ward and Gary Farmer. based on the novel of the same name by Tony Hillerman. directed by Errol Morris. Jim Chee (Phillips) has just taken a job with the Navajo Tribal Police in Arizona when he discovers a decaying and unidentified body in the desert, that he believes may be linked to a recent robbery at the reservation's trading post. MY TAKE this film had so much potential, if only the cinematography and production value had been better. riddled with issues, it seemed as though it was thrown together. there was even a point in the film when the Boom Mic was visible! it really is a shame, too, because it could have a been a great film. good little mystery with a pretty decent cast... if you can look past all of it's faults.
Mare Q
½
Navajo policeman Jim Chee solves a mystery on Indian land in Arizona. It is a fairly standard "New kid on the block figures out who the bad guys are with Indian overtones" type of movie.
The Dark Wind Quotes
There are no approved quotes yet for this movie.