Dark World
(2008)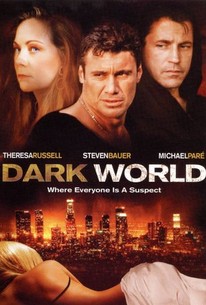 AUDIENCE SCORE
Critic Consensus: No consensus yet.
Movie Info
In the tradition of Alfred Hitchcock comes this neo-noir, murder-mystery thriller concerning a jaded LAPD detective attempting to solve a series of perplexing missing-person cases. Harry Boyd (Michael Paré) is in a tight jam; not only is he recovering from a serious injury, but should he fail in apprehending the culprit responsible for terrorizing the city, he may well lose his job. Meanwhile, as Harry walks a careful line with his loudmouth, lowbrow partner Bob (Charles Arthur Berg), he receives a disturbing piece of news: His ex-wife's teenage niece Grace (Jen Graham) has gone missing, apparently the victim of the kidnapper who haunts the city shadows. Later, Harry's ex-wife Nicole (Theresa Russell draws suspicion by returning from Las Vegas with shady new boyfriend Rick (Steven Bauer) and displaying some seriously bizarre conduct as the pair begins their own investigation. As Grace's drunken, short fused father Charlie (James Russo) become a prime suspect in the case, Harry attempts to gather evidence while resisting the advances of Bob's overly persistent, ex-stripper wife Zoey (Julie St. Clair), who longs to seduce her husband's partner, and refuses to take no for an answer.
Rating:
R (for violence)
Genre:
,
Directed By:
Written By:
On DVD:
Runtime:
Critic Reviews for Dark World
There are no critic reviews yet for Dark World. Keep checking Rotten Tomatoes for updates!
Audience Reviews for Dark World
I'm not sure what was worst about this movie- the bad acting, the terrible script, the lame excuse for "special effects" or the incredibly monotonous narration that nearly puts you to sleep. But I guess it doesn't really matter which of these sins is most heinous, because they're all pretty awful. I would not recommend this movie at all, unless you suffer from insomnia and are looking for something mind-numbingly dull to put you to sleep.
Amanda Hendsbee
:rotten: 1/2 (out of four) [color=yellowgreen]Since it's the end of the year and we are starting to talk about the awards season, I thought I'd give out a few awards for this film. Here we go:[/color] [color=#9acd32]Best Impression of the Cowardly Lion Award: Michael Pare. There is one scene where they sound exactly alike![/color] [color=#9acd32]Most Overacting: Theresa Russell... Does she really have to scream almost every line?[/color] [color=#9acd32]Worst Acting: Charles Arthur Berg...Okay this isn't a big Hollywood production, but even small movies should have their standards![/color] [color=#9acd32]Least Acting: James Russo...Wasted role with minimal effort. come to think about it; was he even ion this film?[/color] [color=#9acd32]Desrves a Better Movie Award: Steven Bauer. A decent actor. Please, please, some producer give him a part in a good movie. He was good in [i][b]How the Garcia Girls Spent Their Summer[/b][/i] and, of course, amazing in [b][i]Scarface[/i][/b]. But he should be in better parts than this.[/color] [color=#9acd32]As far as the movie goes, it's striving for the "cool" film noir feel, but the narration and dialogue is sadly missing any heart. Try and skip this one.[/color]
Steve Smith
Dark World Quotes
There are no approved quotes yet for this movie.