Darklands
(1996)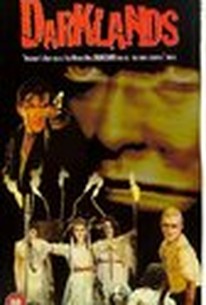 AUDIENCE SCORE
Critic Consensus: No consensus yet.
Movie Info
This compelling low-budget horror-fantasy from Welsh filmmaker Julian Richards made a splash at several fantasy film festivals, where it often garnered a more favorable reception than Hollywood big-budget product. The plot follows the investigations of English journalist Frazer Truick (Craig Fairbrass) into the disappearance of a colleague's brother in South Wales. His snooping unearths the elaborate political machinations of a long-standing, ultra-conservative faction known as "Regeneration," whose followers, under the leadership of businessman David Keller (Jon Finch), intend to return Wales to its ancient Celtic ways... including the practice of human sacrifices. Insidious plot twists abound, all of which point to Truick's unknowing role in the sect's master plan. Richards' excellent script may draw its thematic inspiration from The Wicker Man, and those familiar with that film may not be entirely surprised by the climax; the story nevertheless contains many unconventional surprises, and it maintains an effective balance between political allegory and pure suspense. Further enhanced by excellent photography and an intense performance from Fairbrass, Darklands represents a remarkable debut from an assured genre talent. ~ Cavett Binion, Rovi
Critic Reviews for Darklands
There are no critic reviews yet for Darklands. Keep checking Rotten Tomatoes for updates!
Audience Reviews for Darklands
½
Julian Richards "Darklands" is a modern cult thriller-noir that plays on classic misbeliefs of Celts, pagans and gypsies based on common misconceptions that run through European society (not that the Americas are exempt from such poor quality judgment of cultural differences). The movie is a traditional display of western giallo film making and "Darklands" is as good an example of cult-pagan genre storytelling than contemporary films such as "Spellbinder" and "The Wicker Man". The story follows journalist Frazer Truick as he investigates the mysterious death of the brother of trainee journalist Rachel Morris. Delving deeper, Truick becomes convinced that the tragedy was murder, committed by a bizarre religious cult. But as the evidence unfolds, things take on a more sinister and potentially lethal significance for the reporter, as he becomes embroiled in devil worship, witchcraft and ultimately human sacrifice! (That is the official synopsis). For me this film is a captivating crime thriller and great example of 20th Century noir. The story is plays on mystery, intrigue and suspense in a classic style that is often associated with Italian giallo-most notably Argento's work. Even with the very obvious culture insensitivity that plagues the film, "Darkland" is a very interesting and mesmerizing story that slowly builds suspense through melodrama and eerie atmospheric effects. I did find the view of pagans, Celts and gypsies as some humanized boogeymen wrought with villainous intent a tad offensive, but in proper context as a fictional setting it is easy to swallow. The sound effects and cinematography used for "Darkland" is traditional 80's and 90's creepiness one expects in these suspenseful stories. The characters are classic and mysterious, well developed if needed and never over-indulged to the point of annoyance. Visually the film entertains with moments of post-industrial, neo-primal experimental theatrics that creates a wild urban paganism aesthetics. Usually these images are saved for post-apocalyptic or future-dystopia films. The witchcraft, or primitive traditional religious elements where minimal but when on screen became very effective. Mostly this is a great conspiracy, crime noir. "Darklands" is a very cool, classic cult thriller that offers a great witchy story, and plenty of suspense. The blood and gore is almost non-existent which was a bit of a bummer but over-all I enjoyed the film.
rick russ
Darklands Quotes
There are no approved quotes yet for this movie.
Discussion Forum
Discuss Darklands on our Movie forum!