Darkman III: Die Darkman Die
(1995)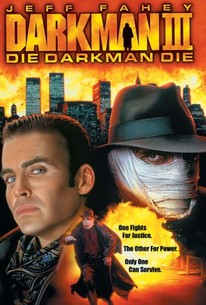 Darkman III: Die Darkman Die Videos
Darkman III: Die Darkman Die Photos
Movie Info
Dr. Westlake/Darkman (Arnold Vosloo) is up to his old tricks, stealing from the bad and keeping for himself while still trying to perfect his synthetic skin which only lasts 99 minutes in the light. After stealing from industrialist and mobster/drug dealer Peter Rooker (Jeff Fahey), Westlake is approached by Dr. Bridget Thorne (Darlanne Fluegel) who is engaged to perform an operation to relieve his pain, but instead she implants in his brain a special device that enables his enemies to control him by inducing unbearable pain. With the help of double-crossing Dr. Thorne, Rooker wants to create a new drug based on Darkman's research. But Darkman strikes back by infiltrating Rooker's gang and his life. Darkman even starts to feel drawn to Rooker's wife Angela (Roxann Biggs-Dawson) and her daughter, who are neglected by the real Rooker. But in disguise, Darkman is able to cling to a normal life, posing as a family man. Even though this sequel was filmed before Darkman II: The Return of Durant, it was ultimately decided that it should be bumped back to part three. This direct-to-video sequel is however, in many ways, superior to the first sequel. Fahey makes an excellent villain combining the best of what made Larry Drake and Colin Friels so enjoyable in the original. Vosloo still can't capture the essence and power of Liam Neeson's character portrayal, but he does a good enough job. Fans of the saga will go feverish over this sequel and others with find it fun as well.
Rating:
R (adult situations/language, violence)
Genre:
,
Directed By:
Written By:
In Theaters:
On DVD:
Runtime:
Studio:
MGM Home Entertainment
Critic Reviews for Darkman III: Die Darkman Die
All Critics (6) | Fresh (2) | Rotten (4)
Definitely suffers from flaws, but it's an enthusiastic, tense, and exciting finale...

Suffers from the normal low-budget sequel afflictions (spotty FX, lesser actors, skimpier action, lamer dialog).

Perfect for USA Network's Up All Night.

Audience Reviews for Darkman III: Die Darkman Die
The final chapter of the Darkman trilogy, Darkman III: Die Darkman Die, is a generic action film that's full of clichés and one-dimensional characters. When Dr. Peyton Westlake teams up with another scientist to reverse his nerve damage he begins to hope that he could be made normal again, but it turns out to be a trap by a drug lord who's looking to harness his powers. Jeff Fahey and Darlanne Fluegel both are pretty good as cartoonish villains, and future Voyager star Roxann Dawson gives a strong performance that helps to bring some emotional weight to the story. But the plot is overly complicated and the characters aren't developed very well. The directing too is incredibly bad; featuring bizarre dream sequences and poorly staged action scenes. Darkman III: Die Darkman Die is a disappointing film that does nothing new or interesting with the character.
Dann Michalski
Super Reviewer
This third Darkman series is not great than the second one with Arnold Vosloo who returns again as the title role. Vosloo seems alternatively bored and exuberant from scene to scene, to be honest, he still does okay, and Jeff Fahey, while a joy to watch as an over-the-top villain, just doesn't quite fit in with the series. The use of OTT visuals and nightmare vision scenes is retained and very like Sam Raimi's style - in fact some of the shot almost mirror the first film. While Westlake lacks some of the craziness that he had in the first film he is still a tortured soul - it's just a shame that this is mixed with the image of him as a sort of Batman figure.
Dean McKenna
Super Reviewer
ok but not as good as the first two
Jason Owens
Super Reviewer
Darkman III: Die Darkman Die Quotes
| | |
| --- | --- |
| Bridget Thorne: | Synthetic skin?.......Wow!,...This is really quite brilliant! |
| Bridget Thorne: | Synthetic skin?... Wow! This is really quite brilliant! |
| Peyton Westlake/Darkman: | Yeah, for ninety-nine minutes...then it's a total failure. |
| Peyton Westlake/Darkman: | Yeah, for ninety-nine minutes... then it's a total failure. |
Discussion Forum
Discuss Darkman III: Die Darkman Die on our Movie forum!