Das Boot
(1981)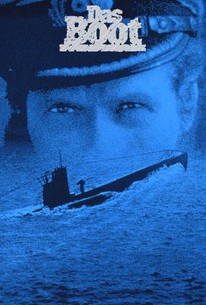 Movie Info
Das Boot is one of the most gripping and authentic war movies ever made. Based on an autobiographical novel by German World War II photographer Lothar-Guenther Buchheim, the film follows the lives of a fearless U-Boat captain (Jurgen Prochnow) and his inexperienced crew as they patrol the Atlantic and Mediterranean in search of Allied vessels, taking turns as hunter and prey. There's very little plot, so the movie's power comes from both its riveting, epic battle scenes and its details of the boring hours spent waiting for orders or signs of the enemy. With the exception of one staunch Hitler Youth lieutenant, none of the crew is particularly loyal to the Nazis, and some are openly hostile toward their Fuhrer; this allows viewer sympathy with the men as they perform their laborious, monotonous duties in cramped, filthy quarters, or await death as depth charges explode all around the sub. Prochnow is excellent as the nerves-of-steel commander, and many of the supporting actors -- all German -- are solid as well, although the characterizations border on war movie clichés (the young crewman who has left behind his pregnant girlfriend, the Chief Engineer whose wife is seriously ill). The real star, however, is cinematographer Jost Vacano, who makes the sub's grimy, claustrophobic interior come to vivid life, as his camera follows the crew through hatches, up ladders, into bunks, and under pipes, creating a palpable sense of claustrophobia while injecting it with movement. Originally edited by writer/director Wolfgang Petersen as both a two-and-a-half hour theatrical release and a six-hour German miniseries, Das Boot was re-released in a restored version in 1997 with nearly one hour of added footage which made it even more suspenseful than before.
People Who Like this movie also like
News & Interviews for Das Boot
Critic Reviews for Das Boot
Audience Reviews for Das Boot
A tense, claustrophobic and intense film that makes us empathize with soldiers from the wrong side of an inglorious war, and what a a terrific cinematography and outstanding sound and sound design, especially considering that the whole movie was shot silent and later re-dubbed.
Carlos Magalhães
Super Reviewer
Speaking as a submarine veteran of both the Atlantic and Pacific fleets, this is by far the grittiest, most realistic sub movie I've ever seen. Technically and emotionally stunning.
Randy Tippy
Super Reviewer
An extraordinary well-made, politically savvy submarine movie concerning a group of German soldiers during WW2 who have doubts concerning the direction of the Nazi regime, but have no say in the matter when they are ordered to go out sea and search for enemy vessels. One has to give director Wolfgang Peterson a ton of credit for being so bold in attempting to get the audience on the side of a group of Nazis, a task which he does successfully through the use of subtly showing their doubts and uncertainty that they are fighting for the right cause. The twists and plotting that are on display here are something you could not script any better, as Peterson's shrewd camera work coupled with his ability to gauge when to hold his audience in suspense or deliver the excitement in bundles proves to be captivating. The final, devastating twist single-handedly pushes this movie into "elite" status, as it is one that is so emotionally ravaging and unexpected that it will leave you stunned upon conclusion. Without question one of the best foreign films constructed, and one that demands repeat viewings over one's lifespan.
Dan Schultz
Super Reviewer
Das Boot Quotes
| | |
| --- | --- |
| The Capt.: | It had to be like that. Not nice, things like that. But it had to be like that... |
| Lt. Werner/Correspondent: | Why? |
| The Capt.: | ...Excuse me? |
| Lt. Werner/Correspondent: | -Why did it have to be like that? |
| The Capt.: | ...Because our boat is barely enough for the 50 men we need here! How many men would you have taken in?! One? Ten? One hundred?! We are ordered to sink ships where we find them. You can ask the men who started this war about the rest... |