American Experience
(2004)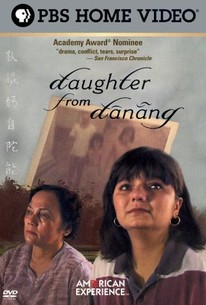 American Experience Photos
Movie Info
As the United States began to withdraw from Vietnam, many Vietnamese women who'd borne children fathered by American servicemen feared for the safety of their offspring, as many Vietcong were extremely prejudiced against people of mixed racial heritage. In 1975, an organization called Operation Babylift was created to help mothers in Vietnam find adoptive parents for their children the United States, and Mai Thi Hiep, one such child, found herself relocated to Tennessee at the age of seven. Mai Thi Hiep was given the new name Heidi Bub, and encouraged by her new mother to turn her back on the life and culture she had left behind. Bub easily assimilated into American life, but by the time she had entered college, she had a severe falling out with her adopted mother and decided to renew contact with Mai Thi Kim, the mother she had left behind. Bub had hoped to find the love and acceptance that her adopted mother was unable to give her, but after traveling to Danang to visit Kim and her family,Bub discovered this would be neither simple or easy to arrange -- Bub soon discovered just how different she and her mother had grown to be, Kim's husband bluntly (though without malice) points out that Heidi was the product of his wife's infidelity while he was fighting in the war, and one of Bub's half-siblings asks what their relatively prosperous American relative intends to do to support the family financially. A provocative look at the unexpected consequences of both war and family, Daughter From Danang is a documentary that follows Heidi Bub's journey to Vietnam, and what she found there. Daughter From Danang was awarded the Jury Prize for Best Documentary Feature at the 2002 Sundance Film Festival.
Critic Reviews for American Experience
Audience Reviews for American Experience
½
An Amer-Asian woman travels to Vietnam to meet her long-lost mother. Aside from a few forays into a discussion of cultural and racial differences -- the Vietnamese family's request for money and the Tennessee family's racism -- there is no discernible difference between this documentary and an episode of Maury Povich. It has all the melodrama of daytime talk with very little of the thematic sophistication one might expect from film, especially a film that won at Sundance. Also, I found all the characters unlikable. Heidi lacked any characteristic aside from a plastic smile, and the family was all jubilation. And when the Vietnamese family "turned on" Heidi, I failed to sympathize with either party. Overall, Maury is the same but shorter, so watch it instead; just make sure you don't get a paternity episode instead of a reunion episode.
Jim Hunter
Super Reviewer
½
A true journey into the lives and perspectives of two different points of view. This is the perfect case studies of how upbringing, not blood, is what makes us who we are.
Dr. AlphonSeuss
I am extremely sensitive on the subject of adoption. For those of you who don't know, I gave up my daughter for adoption the day after she was born. I still see her sometimes, but not very often, especially considering that she lives about 150 miles, tops, away. However, because of that, I will watch just about any damn thing with adoption in it. It was only lack of money that kept me from seeing [i]Juno[/i], for example, and I'll be putting it on my library list even though it's out of order because I need to see it in order to feel connected with my own experience. Largely, I need to feel that society is acknowledging the value of what I've done. But what I did was nothing compared to what Mai Thi Kim did. Her daughter was seven during the last days of South Vietnam as a separate country. Her daughter, Hiep, was half American. (The US is notorious for not having a system to handle the children of their servicemen in time of war.) Kim really, really believed that her daughter would be rounded up and burned to death; whether that actually happened to any half American child after the fall of Saigon, I cannot say. But, were I a parent and I thought there was even a chance, I may well have made the same decision, which was to give her daughter into the hands of an American adoption agency. Who the child's father was didn't matter; indeed, we still don't know. The child, now known as Heidi, has no interest in finding him. However, she did go to Vietnam to see her mother and her mother's family. The problem is that Heidi is not the Hiep who left Vietnam all those years ago. She has been thoroughly Americanized. She cannot adjust to the belief on the part of her Vietnamese half-siblings that she should help pay for her mother's expenses. (I'll note that, given the exchange rate, she almost certainly wouldn't have to pay [i]much[/i]!) She hasn't seen her mother in 22 years. She's become a Southerner; her adopted family made sure of that when she was very young indeed. She never met her half-siblings before her trip to Vietnam. She hadn't seen her mother in more than two thirds of her life. She wanted it all to be a happy experience, but she wasn't prepared for the cultural differences. She wasn't prepared for how open her half-siblings were about the money; Americans don't talk about it that freely for the most part. At least in my family, we let it simmer in bitterness instead. What I noticed and I don't think Heidi does is the casual racism of her adoptive family. Her original heritage is ignored. They seem proud that they made her into a "proper Southerner" who doesn't seem to know much of anything about Vietnam. When she is in Saigon (Ho Chi Minh City now, isn't it?), she feels nothing about the end of the war, despite the fact that it shaped her life possibly more than any single event has or could. "It's just a parade," she says. Now, I'm not saying she should've been weeping over the whole thing, but surely, she should feel [i]something[/i]. The thing that affects her most seems to be that her Vietnamese family is not all that she expected of it, as if family ever is. After all, Heidi is not Hiep and hasn't been in years--which is another thing that her adoptive mother never seems to have considered important. This is heartbreaking, really. Heidi's return home left her more isolated from her birth family than she had been before she had ever known them. She no longer has any real interest in her father, even if she did before. She cares more for her adoptive grandmother, her adoptive family--despite the fact that her adoptive mother was abusive and has, essentially, disowned her. Heidi has lost her past. She still has her husband, children, and most of her adoptive relatives, but those last lost years with her birth mother no longer exist for her.
Edith Nelson
American Experience Quotes
There are no approved quotes yet for this movie.
Discussion Forum
Discuss American Experience on our Movie forum!