Daughters of Darkness (Les lèvres rouges)
(1971)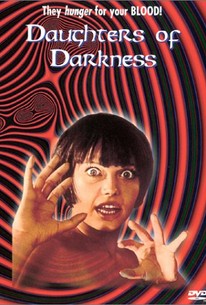 Movie Info
International screen icon Delphine Seyrig (of LAST YEAR AT MARIENBAD fame) stars as Elizabeth Bathory, an ageless Countess with a beautiful young 'companion' (Goth goddess Andrea Rau) and a legendary legacy of perversion. But when the two women seducea a troubled newlywed couple (Canadian beauty Danielle Ouimet and John Karlen of DARK SHADOWS and CAGNEY & LACEY), they unleash a frenzy of sudden violence and depraved desire that shocked both art house audiences and grindhouse crowds worldwide.
Critic Reviews for Daughters of Darkness (Les lèvres rouges)
Audience Reviews for Daughters of Darkness (Les lèvres rouges)
½
Gothic 70's horror that's a little too methodical and calibrated to be taken seriously. A bit of atmosphere, a bit of titillation and a bit of schlock.
Randy Tippy
Super Reviewer
½
This sort of reminded me of Rollin's vampire movies because of the atmospheric shots in between scenes, but I didn't like that we don't get to see any fangs, and it tries to be erotic, but it isn't explicit enough. Another part I liked was the ending, though, it was really cool. Overall this could be a great movie if they dared to go a bit further.
Slow atmospheric tale of a seductive couple of vamp chicks. It was OK I suppose. I enjoyed the creepy setting of the film and the bare flesh which is exposed quite often. It's not particularly gory though and it was a little dull at times. Caused quite a stir on its release back in the day, but it's lost its shock value.
Daughters of Darkness (Les lèvres rouges) Quotes
There are no approved quotes yet for this movie.