David Copperfield - Illusion
(2001)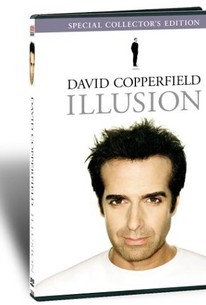 AUDIENCE SCORE
Critic Consensus: No consensus yet.
Movie Info
In the magical realm of David Copperfield's Illusion, seemingly anything is possible. Essentially a "greatest hits" compilation of jaw-dropping illusions from Copperfield's 20-year legacy of highly rated CBS TV specials, this delightful DVD is guaranteed to entertain even the most skeptical critic of Copperfield's glitzy, Vegas-styled stage shows. The master magician is open to ridicule with his GQ looks, Versace wardrobe, atrociously dated hairstyles, and flamboyant posing, but he's the first to admit it, and his crowd-pleasing showmanship is merely the entertaining warm-up for a magic show unparalleled in the history of illusion arts. Featuring Copperfield's former fiancée Claudia Schiffer as a reporter who interviews Copperfield about his life and career, the CBS special 15 Years of Magic provides the bulk of this program, along with a variety of additional tricks and sleight-of-hand mastery.

The best-known illusions are all here (e.g., disappearance of the Statue of Liberty, walking through the Great Wall of China, the imploding building, the vanishing airplane), along with glimpses of artifacts (further detailed in the bonus features) from Copperfield's extensive, one-of-a-kind museum of magic tricks, automatons, and precious historical documents. And while Copperfield's commentary track necessarily avoids any explanation of how his illusions work, he gives generous credit to other illusionists who contributed their copyrighted work to these shows while explaining the logistical circumstances surrounding each illusion. He's also self-deprecating despite an obviously healthy ego, and the clip from Late Night with Conan O'Brien--in which a faux Copperfield performs ridiculous non-tricks on the streets of Manhattan--is a real hoot. Of course, any cynic could dismiss Copperfield's work as the product of precision engineering and rigorous rehearsal, but one simple fact remains: Not a single one of his marvelously staged illusions fails to delight and astonish. It's no mistake that the song "Young at Heart" is prominently featured; Copperfield invites us to embrace a childlike sense of wonder, making us partners in the act of defying everyday reality. Simply put, it's pure magic. --Jeff Shannon
Rating:
NR
Genre:
,
In Theaters:
On DVD:
Runtime:
Critic Reviews for David Copperfield - Illusion
All Critics (0) | Fresh (0) | Rotten (0) | DVD (1)
the illusions themselves are amazing enough to have you gasping a bit and chattering away, but the staging is so campy that there's also plenty of laughs

Audience Reviews for David Copperfield - Illusion
David Copperfield is still one of the best magicians of our time. We saw David LIVE several times in the 1980's and 1990's and he was amazing in person as he is on TV. This DVD brought back great memories of those shows. Not only is he a great magician he is a great entertainer. David has a mysterious and magical personality which I think is great for his name and branding. I heard recently he invested and bought his own island. I am hoping he does another DVD and or another TV special within the next few years. I miss seeing him and it has been many years since his television appearances.
Magic Tricks
½
This a great DVD for any fan of magic or David Copperfield. This was originally aired as a special on CBS. Great music and great magic go hand and hand with this great illusionist. In 1995 I was given two tickets to see David Copperfield live. My son was doing magic for the children I worked with. A parent was so impressed she gave us tickets. My son was celebrating is 12th birthday also. It was an awesome present. The present he recieved that made his day was when we were picked to be part of the show. He was so excited when David started to taking to us. He was in Heaven. David was so nice. He had the crowd sing Happy Birthday to him.
Donna Storey
Discussion Forum
Discuss David Copperfield - Illusion on our Movie forum!