Davy Crockett and the River Pirates
(1956)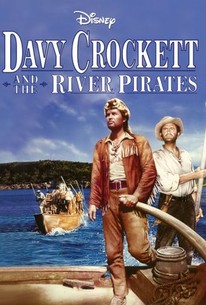 AUDIENCE SCORE
Critic Consensus: No consensus yet.
Davy Crockett and the River Pirates Photos
Movie Info
Like its predecessor Davy Crockett, King of the Wild Frontier, Walt Disney's Davy Crockett and the River Pirates was cobbled together from two episodes of the weekly TV anthology Disneyland. Though it wasn't so labelled at the time, River Pirates is actually a "prequel" to the earlier film, detailing events that allegedly occured in Crockett's life before his rendezvous with destiny at the Alamo. Set in 1810, the first half of the story deals with a river race to New Orleans between Davy (Fess Parker) and his friendly enemy Mike Fink (Jeff York). Once this plot strand has run its course, the film segues into Davy and Mike's attempts to prevent an Indian war which is being fomented by a renegade white man. Linking these two episodes are the spirited ballads of Davy's pal George Russel (Buddy Ebsen). Like the first "Davy Crockett" venture, Davy Crockett and the River Pirates cleaned up at the box-office and increased department-store sales of those coonskin caps (remember?)
Rating:
G
Genre:
, ,
Directed By:
Written By:
In Theaters:
On DVD:
Runtime:
Studio:
Buena Vista Pictures
Cast
Critic Reviews for Davy Crockett and the River Pirates
There are no critic reviews yet for Davy Crockett and the River Pirates. Keep checking Rotten Tomatoes for updates!
Audience Reviews for Davy Crockett and the River Pirates
½
This movie was originally a couple of TV episodes on the old Disney TV show. It was made about the time I was born and this version was released to the theaters after it came out on TV. I have this movie on a Disney Laserdisc. When I was about in the second grade these Davy Crockett shows were re-run on NBC's Wonderful World of Color. At the time my family went to Sunday night church at 6:30 and the Wonder World of Color started at 6:00; therefore, I only got to watch the first 15 or 20 minutes of each show. I remember watching parts of this movie on TV back then and I remember my friends talking about this episode at school the next day. The Davy Crockett shows were aimed at young boys. It's the kind of show that they don't make anymore. There is some violence in the form of fist fights and gun fights that they won't put in kid's shows today. The Indians were stereo types but in one respect accurate because Davy Crockett says the Chickasaw were friendly and they had horses. That's historically accurate. The Indians in the movie were actually white river pirates disguised as Indians. The movie is supposed to be set in 1810 but they act like Davy Crockett is already famous. Davy Crockett didn't become famous until the War of 1812. In 1810 Davy Crockett was an anonymous bear hunter living in the eastern Tennessee Mountains. The other character in the movie is Mike Fink. They made Mike Fink out to be an urban keel boat captain. The real Mike Fink was a frontier woodsman not that different than Davy Crockett. He was a local character in the Pittsburgh, Pennsylvania area. He may have met Davy Crockett once. The real Mike Fink was 16 years older than Davy Crockett. In 1810 Davy Crockett would have been 24 and Mike Fink would have been 40. The story in the movie is pure fiction. Mike Fink was a much more colorful character than Davy Crockett. He worked a few years on keel boats on the Ohio and Mississippi rivers until the arrival of the steamboats. He was murdered on a trip to the Rocky Mountains in 1823. Davy Crockett was a much more charismatic character and used the fame he achieved in the Indian wars during and after the War of 1812 to run for Congress. He was elected to Congress the same year Mike Fink was killed. Crockett started out as a supporter of Andrew Jackson and even helped subdue the assassin who tried to kill Jackson. After Crockett opposed Jackson's Indian Removal Act and almost defeated it, Jackson sent his Democrat Party political machine to Crockett's district and had him defeated after six years in Congress. With his political career ruined Crockett went to Texas to help his old friend Sam Houston and wound up at the Alamo where he was killed by Santa Anna.
Donald White
A sequel that was just as good as the first and actually had more laughs, fights, and fun. The old style mass fights are always appealing to me, especially when their played for laughs like they are here. The acting is great and York makes a great addition as the boastful Mike Fink. It's a great family friendly Disney classic that is as good as the first and as much as my favorite. "I can out-run, out-jump, out-sing, out-swim, out-dance, out-shoot, out-eat, out-drink..." "Out-talk?" "Out-talk, out-cuss, out-fight anybody in the whole Mississippi and Ohio Rivers put together!"
James Stacey
I had no idea this movie existed until recently. King of the Wild Frontier was a childhood favorite of mine, so I was interested to see what this would be like. I think its lesser known for a reason. much more fantasy-driven with less believable acting and storytelling. still a cool movie, but it's not exactly as top-notch as its predecessor.
Brian Schnell
Discussion Forum
Discuss Davy Crockett and the River Pirates on our Movie forum!
News & Features