Dawn of the Mummy
(1981)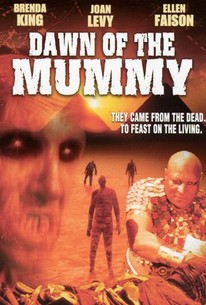 AUDIENCE SCORE
Critic Consensus: No consensus yet.
Movie Info
This film's title clearly reflects the two films that most inspired it: The Mummy and Dawn of the Dead. The plot involves a group of jet-setting fashion models and photographers who choose the tomb of an evil and sadistic pharaoh named "Seferaman" as the setting for their Egyptian-themed magazine shoot. Since these characters are also phenomenally stupid, it's only a matter of time before someone's disturbing the hot-tempered pharaoh's beauty rest, prompting the mummy and his cannibal companions to rise from their dusty graves and tear the infidel defilers to shreds. Good camerawork, voracious gore effects, and the chaotic mummies-in-the-streets finale recall some of the better Italian zombie epics -- but this resemblance unfortunately extends to the typically threadbare plot, which requires each and every character to plow headfirst into situations that almost guarantee death or dismemberment.
Rating:
R
Genre:
Directed By:
Written By:
In Theaters:
On DVD:
Runtime:
Studio:
Harmony Gold Productions
Critic Reviews for Dawn of the Mummy
There are no critic reviews yet for Dawn of the Mummy. Keep checking Rotten Tomatoes for updates!
Audience Reviews for Dawn of the Mummy
The worst horror film EVER! There are so many reasons not to like this horrid little picture. For starters the dialogue is awful enough that I lost interest during the first five minutes of the movie! Characterization is kept to such a low level and the characters are so two dimensional that it is hard to tell each character from each other because they completely lack personality! Logic is also kept at a minimum and practically nothing makes sense, why doesn't the mummy kill everybody earlier on instead waiting so long, and what is it that leaks out of the mummy that causes his servants to rise from the sands (which I might add is extremely illogical because an earlier flashback in the film shows them being buried WITH the mummy!). There is also a complete lack of suspense here, no chills ....no jump scares .... Absolutely nothing! One final note in my list of complaints with this film is the make-up of the mummy itself and his undead servants are terrible, the mummy isn't even scary and each time the viewer sees the mummy's lackeys their make-up gets worse and worse as if the actors portraying them got tired of the long make up process and decided to just smear themselves with car oil and call it good. It's a shame really considering that it could have made a dark, gritty and yes horrifying mummy movie if they actually decided that some skill and suspense was needed for the film. Alas that never happens.
Hayden Larsen
½
Lags a little and the kills scenes are sparse but the Mummy makes up for everything. Completely detailed and overall cool looking.
Sean N
[FONT=Garamond]it's hotter than shit down here in houston, thank god it's only for a couple more days. though, it's been fun. drinking a lot, eating a lot, and swimming a lot. and i've had the chance to watch a few movies. [img]http://horrormd.50megs.com/mummy1.jpg[/img] DAWN OF THE MUMMY (1982) this was $5 at best buy, so i couldn't resist. it's bad, i knew it would be bad, so it was really fun to watch and make fun of. that's about all i can say about it. it's a good MST3K movie. [img]http://www.filmfodder.com/movies/reviews/alien/images/alien.jpg[/img] ALIEN (1979) what can i say, it's one of my all time favorites. i finally got my boyfriend to watch it for the first time, which i'm proud of. i never get tired of it and know it by heart. i don't think that sci-fi will ever be this scary again, nor will there ever be a greater production design than this. the whole film is sheer genius through and through. [/font]
Lesley Bird
Dawn of the Mummy Quotes
There are no approved quotes yet for this movie.