Day for Night
(1973)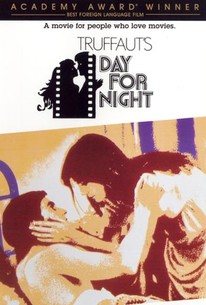 Movie Info
Known to English-speaking audiences as Day for Night, La nuit américaine was director François Truffaut's loving and humorous tribute to the communal insanity of making a movie. The film details the making of a family drama called "Meet Pamela" about the tragedy that follows when a young French man introduces his parents to his new British wife. Truffaut gently satirizes his own films with "Meet Pamela"'s overwrought storyline, but the real focus is on the chaos behind the scenes. One of the central actresses is continually drunk due to family problems, while the other is prone to emotional instability, and the male lead (Truffaut regular Jean-Pierre Leaud) starts to act erratically when his intermittent romance with the fickle script girl begins to fail. In addition to all this personal drama, the film is besieged by technical problems, from difficult tracking shots to stubborn animal actors. The inspiration for future satires of movie-making from Living in Oblivion to Irma Vep, La nuit américaine was considered slight by some critics in comparison to earlier Truffaut masterworks, but it went on to win the 1973 Oscar for Best Foreign Film. ~ Judd Blaise, Rovi
News & Interviews for Day for Night
Critic Reviews for Day for Night
Audience Reviews for Day for Night
It's very interesting that the English release of this film was not a direct translation of the French title which would have been "The American Night" Truffaut brings a nice mix of humour into yet another film about film making.
John Ballantine
Super Reviewer
A great view about the charm, conflict, love, family and life in cinema. A cinematography poem to the artists of the seventh art. A better and more serious version of 'Noises Off' with very good actings of all the cast. Fresh.
Lucas Martins
Super Reviewer
½
From the opening credits to the last frame it is great fun to see behind the scenes of the making of a movie. What is going on in the cast's and crew's private lives and how it affects the movie being made was the most interesting thing though. The many uninterrupted tracking shots following Truffaut as a writer/director named Ferrand, who for all intents and purposes is Truffaut, are amazing in their fluidity as he answers production questions from everyone who crosses his path. Jacqueline Bisset as a visiting American/British star in the French production of Meet Pamela is beautifully natural in her role. Jean-Pierre Aumont as the mature actor is also likable and charming. Nathalie Baye stands out in her hard working, strong, and attractive role as a script girl who seems to have more responsibilities than the assistant director. Jean-Pierre Leaud and Dani are good as a young immature couple, he the other lead with Bisset's and Aumont's characters, she getting an assistant continuity job through him. Valentina Cortese is an aging actress who is turning more and more to drink. Bernard Menez, the prop man, is quite funny. There are producers, other actors, more crew, paparazzi, and extras as well. Movie sets are controlled places where stories are committed to celluloid, not like real life. Still unexpected occurrences like trying to film animals, actresses becoming pregnant, emotions becoming unstable because of actors' private relationship troubles, and sudden death lead to changes being made to the script all along the way. One theme is the love of movie making, which we see throughout. Another is relationships between the sexes. When Alphonse (Leaud) asks Julie (Bisset) his repeated question "Are women magic?" she replies, "Everyone is magic. And no one is." By giving the actors and the crew the same attention, by giving the making of Meet Pamela the same attention as the off camera lives of those involved, and by giving several actresses roles as strong or stronger than many of the men have, Traffaut shows that he truly believes "Everyone is magic. And no one is."
Byron Brubaker
Super Reviewer
Day for Night Quotes
There are no approved quotes yet for this movie.