Il giorno del Cobra (The Day of the Cobra)
(1980)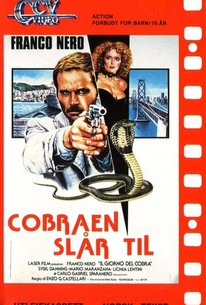 AUDIENCE SCORE
Critic Consensus: No consensus yet.
Il giorno del Cobra (The Day of the Cobra) Videos
Il giorno del Cobra (The Day of the Cobra) Photos
Movie Info
A tough ex-cop (Franco Nero) is hired to nail a drug lord. Brenda: Sybil Danning. Goldsmith: William Berger. Tim: Carlo Gabriel Sparanero. Directed by Enzo G. Castellari. Also known as "Il Giorno del Cobra."
Rating:
NR
Genre:
, , ,
Directed By:
In Theaters:
On DVD:
Runtime:
Studio:
Media Home Entertainment
Critic Reviews for Il giorno del Cobra (The Day of the Cobra)
There are no critic reviews yet for Il giorno del Cobra (The Day of the Cobra). Keep checking Rotten Tomatoes for updates!
Audience Reviews for Il giorno del Cobra (The Day of the Cobra)
"Don't Give a Damn, I am The Cobra!!!!!!"/ This is an AWESOME ENZO G. CASTARELLI poliziotti film ("poliziotti" is close to the genre-term I'm trying to recall-I will update this review when I remember the term). Similar to the Italian giallo-films the Italian "poliziotti-films" (remember "poliziotti" is not the exact term) are a type of Italian crime film that focus on the drama from the "Cop's Perspective" as opposed to the "Murder's Perspective." So in IL GIORNO DI COBRA (DAY OF THE COBRA) we have FRANCO NERO as a ex-policeman-come-private investigator who is given an assignment by his former boss to crack-up some sort of international crime ring. Its been a very long time since I've seen it (DAY OF THE COBRA was only out on MEDIA HOME ENTERTAINMENT VHS and recently was released on DVD) but the crime-ring was instrumental in causing the death of Detective MARION Cobretti's ( played by FRANCO NERO )son played by David Colin, Jr. (who starred in BEYOND THE DOOR as "Ken Barret" and in BEYOND THE DOOR II as "Marco" yet appears to be un-credited in Il Giorno Di Cobra [HOW and WHY I remember this stuff is beyond me]). Ultimately it's a "RAW DEAL REVENGE movie" with Private Investigator Marion Cobretti given the task of hunting-down and killing "The Syndicate" that murdered his only child and then framed Cobretti to be fired from the police force. In fact COBRA is short for COBRETTI and COBRETTI does not like anyone to call him by his first name MARION because Marion sounds like a girl's name. (Another site) lists the Franco Nero character as "Larry Stanziani," yet if The Guy's name was STANZIANI, where does the nickname "COBRA" come from: The Guy's name IS COBRETTI in DAY OF THE COBRA. And then the SYLVESTER STALLONE character in COBRA shares the same name with the Franco Nero character in Il GIORNO DI COBRA: Marion Cobretti. Anyway, FRANCO NERO goes through a series of life-threatening misadventures until the end including getting his ass kicked by a TRANSVESTITE NIGHT-CLUB OWNER . . . DAY OF THE COBRA is corny . . . BUT I LOVE IT A LOT!!!!! And there's some BITCHIN' 1970s poliziatechi music by PAOLO VASILE . . . and an appearance of ROMANO PUPPO f from L'ULTIMO SQUALO as the Big Shot Shark Hunter Carrying a Rifle and 2019 - DOPO LA CADUTA DI NEW YORK (GREAT WHITE-THE LAST SHARK and AFTER THE FALL OF NEW YORK) as The Mysterious Rachet With a Big Secret. If there are any ROMANO PUPPO fans out there, I am saddened to report that Romano Puppo passed away in 1994 after succumbing to injuries suffered in an ATV accident. I think that besides me and about FIVE other people, nobody even KNOWS who ROMANO PUPPO even is. . . ROMANO PUPPO we'll never forget you!!!! (The Five Other People Including Me)
Gordon Terry
Il giorno del Cobra (The Day of the Cobra) Quotes
There are no approved quotes yet for this movie.
Discussion Forum
Discuss Il giorno del Cobra (The Day of the Cobra) on our Movie forum!