Day the World Ended
(1955)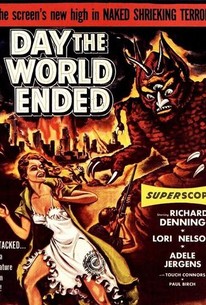 AUDIENCE SCORE
Critic Consensus: No consensus yet.
Day the World Ended Photos
Movie Info
Seven normal looking people struggle to survive in a grim post nuclear world in this sci-fi film, the first ever made by Roger Corman. Living in the post T.D. Day (Total Destruction Day) is difficult, for the constant blasts of radiation have caused extensive mutations of plant and animal life, the most terrifying of which is a man-eating, triple-eyed, man-like creature withy four arms, horns and telepathic powers.
Critic Reviews for Day the World Ended
All Critics (4) | Fresh (3) | Rotten (1)
Entertaining cheesy nonsense from the early days of Roger Corman.

Mountain Xpress (Asheville, NC)
Audience Reviews for Day the World Ended
½
Years later there was another movie made with the late Vincent Price titled The Last Man On Earth (1964), which both movies seem to have a lot of similarities, but The Last Man On Earth was better. The monster in this film looks really silly. This is your typical silly and campy 1950s Sci Fi movie.
Jesse Richardson
½
I am a surviving monkey on your animal boat. In the future a nuclear war leads to most of the human race being eliminated. One fortunate family resides in a small valley away from the nuclear overcast. Several other survivors wander to their home and risk the survival of the family. Will the new group of individuals survive, or will those infected by the nuclear radiation wander onto the farm and kill everyone? "Scream and I'll cut." Roger Corman, director of Bloody Mama, The Tomb of Ligeia, The Terror, The Raven, The Haunted Palace, Pit and the Pendulum, The Trip, Gunslinger, and The Little Shop of Horrors (1960), delivers The Day the World Ended. This picture contains a storyline that is fun and classic to the science fiction genre. While the content is not overly original, the execution of the plot is solid and the acting is worthwhile. The cast includes Mike Connors, Richard Denning, Lori Nelson, and Adele Jergens. "Man has done his best to destroy himself." Unfortunately, I saw this picture after the remake (In the Year 2889). The premise for this film is well delivered and entertaining. The character delivery is outstanding and reminded me of a Romero film. Overall, this isn't a great movie but it is a solid addition to the science fiction genre. I do recommend seeing this picture if you are a fan of the sci-fi pictures. "Happy landing, sweet heart." Grade: C+/B- (6.75)
Kevin Robbins
½
Can you guess what this movie is about? Yep, the day the world ended. I think it's pretty good, but not the best end of world movie.
Day the World Ended Quotes
There are no approved quotes yet for this movie.
Discussion Forum
Discuss Day the World Ended on our Movie forum!