Day X
(2006)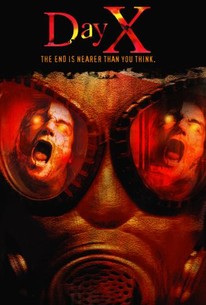 AUDIENCE SCORE
Critic Consensus: No consensus yet.
Movie Info
When the world as we know it is overrun by rampaging hordes of flesh-eating marauders, eleven strangers trapped in an abandoned steel mill must band together to discover they mystery behind their terrifying crisis, and fight for their lives as the reign of mankind draws to a bloody close. Chief among the survivors is an enigmatic man named Frank Chambers (Ken Edwards). As it begins to appear that the comatose girl who Frank is looking after may in fact provide the answers to their many questions about the strange infection that plagues mankind, the rapidly dwindling survivors must fight for the truth before there is no one left to know it.
Critic Reviews for Day X
There are no critic reviews yet for Day X. Keep checking Rotten Tomatoes for updates!
Audience Reviews for Day X
It's watchable, and when you're trudging through the zombie genre, that's a helluva accomplishment. I originally saw this on the Crackle.com ZombieFest to promote Zombieland, and as of April 21 2010 it is still available for free viewing there ( http://www.crackle.com/c/Zombiefest# ). I picked it because it was the only full length piece I had never heard of. This is really only territory for initiated zombie genre addicts. It's an outbreak movie with one central setting. Acting varies from mediocre to tolerable. Don't remember much about the zombie makeup (which means it wasn't stellar) and won't be bothered checking. I give this three stars instead of 2 or 2.5 because I distinctly remember a few scenes where characters sneak out and back into their hiding area. The filmmakers did a great job at capturing the tension of such a situation (trying to get past or outrun zombies to your tiny entry point to safety) by confusing cross-cutting that makes you feel panicked and suddenly disjointed within the space defined. I would watch it again on a night when I want mid-level zombie thrills and can't stand to watch "Days of Darkness" again.
_kelly .King
Super Reviewer
Day X Quotes
There are no approved quotes yet for this movie.
Discussion Forum
Discuss Day X on our Movie forum!