Daylight Robbery
(2008)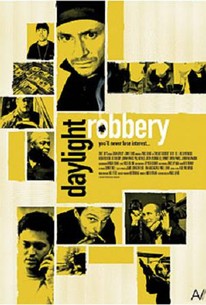 Movie Info
Using the chaos of the World Cup competition as their cover, a crew of crackerjack bank robbers scheme to steal millions of pounds in used bank notes from a London bank before the cold hard cash is incinerated as scheduled. After checking in early for a flight to Germany in order to establish their alibi, the thieves quickly sneak out to the airport parking lot, pile into a van, and stealthily drive towards their target. Their plan to smash the van into the building and grab the cash before catching their flight goes suddenly awry, however, when a member of the gang is badly injured in the crash. With the clock counting down before their flight takes to the sky, the group is soon forced to alter their plan as police attempt to negotiate with the crew through the crumpled van. The negotiations are quickly staled when the robbers refuse to negotiate, leaving the police with no other choice than to hatch a plan to storm the bank. When the police do finally gain entry into the bank, the sight they find leaves even the most sharp-minded law enforcer hopelessly speechless.
Critic Reviews for Daylight Robbery
Audience Reviews for Daylight Robbery
Granted this is just an Inside Man knock off which they even admit in a line towards the end. This movie is just a bank robbery movie. Very predictable, acting wasn't the greatest, but it wasn't horrible either. The cops in this movie are idiots, and that is what made this movie less enjoyable. Their response to what was going on was ridiculous and provided no real conflict. In fact other than the wounded guy there was no real conflict and I never thought they weren't going to get away with it. Why? because they would ask for something and the cops would be like, anything to help the situation. Other than that it was okay. Nothing special. Maybe something to watch if you don't have any better options.
Dutch Vandar
½
This movie is about a group of British football fans who plan a big bank robbery. They want to rob a bank and use the World Cup as their coverup. They unexpectedly end up taking hostages and must finish the heist before their plane leaves in just a few hours. This movie was good entertainment and the acting was good as well. I like watching British movies every once in a while and this movie wasn't bad.
Naughtia Nahazhina
Super Reviewer
This small-budget heist movie, though hardly very original, is at least made with complete professionalism.
Roy Gutteridge
Super Reviewer
Daylight Robbery Quotes
There are no approved quotes yet for this movie.
Discussion Forum
Discuss Daylight Robbery on our Movie forum!