Daytime Drinking (Naj sul)
(2008)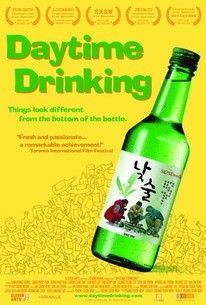 Movie Info
When a broken-hearted city dweller goes to meet his friends in the countryside for a getaway, he finds that not only have none of them showed up for the trip, but the tiny seaside town is shuttered- no shops are open, no tourists are around, the beach is freezing, and there's no cell phone signal. Unable (and unwilling) to return to Seoul, in the company of some very unusual locals, and subject to the rigid rules of Korean drinking culture (never decline the first drink, always accept a drink from an elder, etc.), he finds himself on an increasingly strange odyssey nursing a never-ending hangover.
Critic Reviews for Daytime Drinking (Naj sul)
Audience Reviews for Daytime Drinking (Naj sul)
"Daytime Drinking" starts with Hyuk-jin(Sam-dong Song) being consoled by his friends at a bar after breaking up with his girlfriend. While there, they agree to go to Jeongseon the following day for a fair. He wakes up the following morning there but alone and no fair. Relax says Ki-sang(Sang-yeop Yuk), one of his friends, over the telephone. He knows of a guest house nearby owned by a friend of his that also has a barbecue on. After a long walk that might make a weaker man consider giving up smoking, Hyuk-jin reaches his destination but eventually discovers it is the wrong guest house where there is no cell phone reception.(Sounds perfect to me.) Well, at least, there is an attractive woman(Kang-hee Kim) staying next door. "Daytime Drinking" is a melancholy comedy that moves at its own leisurely pace which is fine until the contrivances start to pile up. The one thing it nails is the inability of some people to act unless with somebody or in a group which is something I have never understood. Look at it this way. It is much easier to improvise when you are on your own. Of course, it may not be as much fun drinking alone but when you start to wake up in strange places, it might be time to consider sobriety. Regardless, always wear clean underwear, like your mother used to tell you.
Entertaining roadtrip adventure in South Korea. The best part of the movie would have to be the scenary and the different drinks the character had while traveling the country side.
Jason LeGault
½
Well, I really liked the ending. I don't mean that in an "I'm so glad it's over way" but, after being worn out from following a sadsack character get betrayed at every turn, I loved the wink-at-the-camera aspect of the final scene. If only the movie wasn't so long and wasn't so frustratingly reliant on misfortune, I could've enjoyed the entire movie on the same level, because I know a decent movie is present in Daytime Drinking, it's just not shown to the audience.
Zane Umsted
Daytime Drinking (Naj sul) Quotes
There are no approved quotes yet for this movie.
Discussion Forum
Discuss Daytime Drinking (Naj sul) on our Movie forum!