DCU: Justice League: The Flashpoint Paradox
(2013)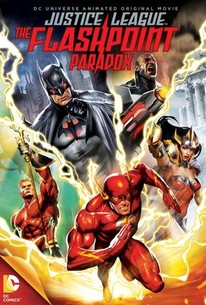 DCU: Justice League: The Flashpoint Paradox Videos
DCU: Justice League: The Flashpoint Paradox Photos
Movie Info
We all wish for the chance to go back in time and change the things, for The Flash, that coveted chance is within reach. He traverses time to right a violent, decades-past crime against his mother, but the ripples of his good intentions prove disastrous, as a fractured, alternate reality now exists in place of the familiar one. Stumbling through this twisted reality where even Superman is nowhere to be found, The Flash seeks the trusted wisdom of Batman, only to find a grittier, more violent Dark Knight in his place. Together with the help of Cyborg, they race to restore the continuity of Flash's original timeline while this new world is ravaged by a fierce war between Wonder Woman's Amazons and the Atlanteans, led by a battle hardened Aquaman. With breath taking action and an all-star voice cast featuring Kevin Conroy, C. Thomas Howell and Dana Delany, it's a bold, emotional vision that will forever change the landscape of the DC Universe!
Rating:
PG-13
Genre:
,
Directed By:
Written By:
On DVD:
Runtime:
Studio:
Critic Reviews for DCU: Justice League: The Flashpoint Paradox
Audience Reviews for DCU: Justice League: The Flashpoint Paradox
Alternative reality stuff as the Flash goes back in time to save his mother from a killer only to unknowingly set off a a host of new but ugly consequences. Not bad, if a little confusing at times. Look for a Wonder Woman sequence wherein she beheads a rival in love. Ouch!
Kevin M. Williams
Super Reviewer
½
It's nice to see one of the main animated films of the DC canon feature The Flash rather than mostly doing Batman and Superman. He's an interesting character and this film shows exactly what possibilities they have with him storywise. It has a very intriguing alternate universe storyline where Thomas Wayne is a much more violent Batman, Bruce Wayne is dead instead of him, and many other scenarios out of the ordinary. Half the fun is seeing the different versions of the Justice League characters. The DC animated films have been getting progressively darker and this film continues that. Plenty of the action scenes are intense. The animation is well done and the voice acting is spot on. This is one of the better DC animated films I've seen. Being mostly a Batman fan and not much else, that's pretty good praise from me.
Josh Lewis
Super Reviewer
Superohero Gold! Great Animated Movie! This is one of the best Justice League animated films they've produced. The story is great, the animation and action is awesome! Though tagged as a Justice League movie, The Flashpoint Paradox is a Flash movie with the Justice League in supporting roles. Barry Allen is the main character and we really go into his head, deconstruct his personality, and see this twisted new world through his eyes. The writers and talent voice cast lend a good deal of realism to the characters, never over-acting but always keeping it real. They speak like how they would in a live action movie. With the exception of the Dark Knight Returns films, this might be the best animated film they have released to date. It showcases everything in both story and action you could want and then some. They may be slow on the draw to get their live action films moving, but they are winning the war in animation with each getting better and better. While we still have a way to go before getting the live action Justice League movie we have been waiting for, you can at least be happy to know that the next animated film coming up Justice League: War is sure to keep things moving in the right direction. An alteration of the timeline for the superhero, The Flash, creates ripples that disastrously alters the Universe. The Flash must team with other heroes to restore the timeline while the Earth is ravaged by a war between Aquaman's Atlantis and Wonder Woman's Amazons.
DCU: Justice League: The Flashpoint Paradox Quotes
There are no approved quotes yet for this movie.
Discussion Forum
Discuss DCU: Justice League: The Flashpoint Paradox on our Movie forum!