Dead Heist
(2007)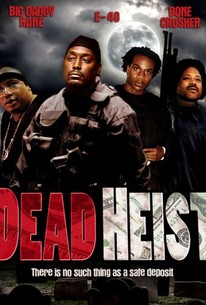 AUDIENCE SCORE
Critic Consensus: No consensus yet.
Movie Info
Filmmaker Bo Webb makes his feature directorial debut with this hybrid horror film that combines elements of a heist thriller and a zombie flick. When a group of crooks hatch a plot to rob a bank, they encounter something none of them had planned for. The crew suddenly finds themselves trapped inside the bank while a throng of blood-lusting zombies surrounds the building in search of mortal flesh. Released straight to DVD, Dead Heist stars old-school rapper Big Daddy Kane.
Critic Reviews for Dead Heist
There are no critic reviews yet for Dead Heist. Keep checking Rotten Tomatoes for updates!
Audience Reviews for Dead Heist
½
Hip Hop and Zombies/Vampires. They even put Big Daddy Kane in there. LOL I can't lie its a delicious piece of cinema yum yum!
Kendrick Mayes
Dead Heist (Bo Webb, 2007) Man, people aren't even trying any more. I'm trying to imagine the spec meeting for this movie. âI got this script about a bank robbery that goes wrong.â? âNah, that's not good enough any more. What can we do to pump it up?â? âAdd zombies?â? âZombies are overdone.â? âHow about...zombie vampires?â? âYeah!â? Good god. And for the record, I only know they're zombie vampires (or vampiric zombies, if there's a difference) because I read the IMDB synopsis, not because anything in the movie clued me in... Plot: a bunch of thug-life types are out to rob a bank. But, preferring not to dump where they eat, the big boss man behind the job sends his right-hand man Ackson (Furnace's D. J. Naylor), who wants to get out of the life but can't until he finishes this last job (no, that's not a clichà (C) or anything) with the crew to case a bank in a small town in the middle of nowhere. Which just happens to have a massive weapons store owned by a big black guy (Big Daddy Kane). Bet you didn't see that one coming in the deep south! In any case, while Ackson is casing the joint, his charges get antsy and decide to rob the bank without him. Suffice to say the cops, the crooks, and Ackson all find themselves in the bank at sundown, when the vampire/zombie/whatevers arrive and start killing the townsfolk. Yep, âarrive and start killing the townsfolk.â? It's not that this is a town inhabited by the undead, or that there's some sort of government chemical spill being covered up, or... you know the drill. The vampire-zombie-whatevers just kinda show up. And start killing the townsfolk. âBut wait,â? I hear you asking, âis there no explanation given for this?â? I'm sure you already know the answer, but just in case, I will put a big SPOILER ALERT here before saying ânoâ?. Why? Because, most likely, scriptwriter Anghus Houvouras was stuck for an idea, said âhey! Monsters!â?, and threw in vampire-zombie-whatevers, then never went (or never thought to go) back and come up with some plausible explanation for them being there. Which is synecdochic of the care taken with this entire script. Awful. *
Robert Beveridge
½
A low budget zombie film about four guys robbing a bank but little do they know a zombie out-break is about to take place. I liked this film but i only reccomend it for zombie movie lovers. Nothing really special about this film. Acting was kinda bad, plot was unique but casual, and the action was not too shabby
erik delgado
Dead Heist Quotes
There are no approved quotes yet for this movie.
Discussion Forum
Discuss Dead Heist on our Movie forum!