Dead or Alive: Hanzaisha
(1999)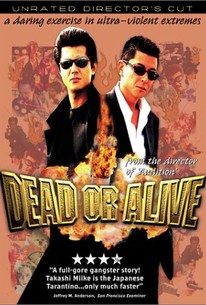 Movie Info
In Tokyo's crime-infested Shinjuku quarter, a cop by the name of Jojima is drawn into criminal fraternization with the ruthless yakuza mobster Ryuichi in order to finance his daughter's operation.
Critic Reviews for Dead or Alive: Hanzaisha
Audience Reviews for Dead or Alive: Hanzaisha
½
More than just "a cool intro and a cool ending" DOA is surprisingly a very mature and well told story with interesting characters that manage to keep you engaged the whole time. Add that a whole bunch of crazy ideas from the always fertile mind of Miike, two of the coolest actors to ever walk the planet, and you have yourself a cult classic in the best sense possible.
Tsubaki Sanjuro
Super Reviewer
This one is put out by Kino Video, they have nothing but awesome movies, get there catalog. Why is it that Asian Cinema blows away US Cinema. Guess it like the cars. The shoot'em up scenes are incrediable.None compare. The whole movie is a blast. But wouldn't let the kiddies watch this one, as you would have lots of explaining to do. Their's more to fido then meets the eye, watch the movie and you will catch my drift. Its going into my Kino Collectiion.
Bruce Bruce
Super Reviewer
Watch out, this one is not for the squeamish AND those without a sense of humour. The first five minutes are the biggest roller coaster ride I've experienced in a long, long while and left me breathless. What follows is a mix of heroic bloodshed, Yakuza-flics and manga in the flesh. The ending left me laughing way into my eighth drink. Not as creepy as his Audition, but way more fun.
Cassandra Maples
Super Reviewer
Dead or Alive: Hanzaisha Quotes
There are no approved quotes yet for this movie.
Discussion Forum
Discuss Dead or Alive: Hanzaisha on our Movie forum!