Dead & Deader (Dead and Deader)
(2006)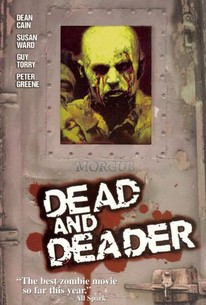 AUDIENCE SCORE
Critic Consensus: No consensus yet.
Dead & Deader (Dead and Deader) Videos
Dead & Deader (Dead and Deader) Photos
Movie Info
A hard-nosed Special Forces officer is transformed into a zombie-human hybrid who provides the only hope for preventing a zombie plague from infecting every living man, woman, and child on the planet in an all-out tale of undead terror starring Dean Cain. Bobby Quinn (Cain) was the perfect Special Forces operative. Tough, quick on his feet, and always ready for action, Quinn awakens one day in the morgue to discover that he isn't entirely human anymore. It seems that the nefarious Dr. Scott has been plotting to achieve unlimited power, and a contaminated swarm of Jindoo scorpions from Cambodia have unleashed a deadly zombie plague that threatens to spell the end of the human race. There's still time to save mankind though, and as Quinn leaps into action with a little assistance from smoldering film student Holly, military chef Judson, and a motley crew of hard-charging allies, these dogged soldiers may be able to fend off the living dead after all.
Critic Reviews for Dead & Deader (Dead and Deader)
All Critics (2) | Fresh (0) | Rotten (2) | DVD (2)
...the relentless emphasis on cornball jokes and egregiously quirky supporting characters ultimately renders the film's few positive attributes moot.

Call it C-level horror fluff if you like, but at least it moves quick and has lots of (obvious) in-jokes for the horror nerds. Like me.

Audience Reviews for Dead & Deader (Dead and Deader)
½
Never tries to be anything more than it is: a B-movies with zombies that doesn't take itself too seriously or overdo it on the comedy.
Alex Carawan
Probably as bad as film can be, I believe Dead and Dead was a Sci-Fi Channel film. Starring a wash-up Dead Cain who gets killed in action in Cambodia....in the present day.....which already doesn't make much sense. A steady stream of idiotic jokes and attempts to cater to fanboys through including discussions of Star Wars, Dawn of the Dead, etc. make Dead and Deader even dumber and more interminable than most bad zombie films.
Al Miller
½
An interesting premise, definitely different than most zombie/back from the dead/experiment gone awry plots. I like Dean Cain and Torry as the sidekick and Susan Ward as the hottie. Their interaction and dialogue between them was pretty good. However, there are huge gaping plot holes, way too many coincidences, and no one EVER has a clear, believable motivation for doing anything that they do. That being said, I did actually watch it all and took the time to comment on it, so overall I did kind of enjoy it, cheese and all
John Wagner
Dead & Deader (Dead and Deader) Quotes
There are no approved quotes yet for this movie.
Discussion Forum
Discuss Dead & Deader (Dead and Deader) on our Movie forum!