Dead Clowns
(2007)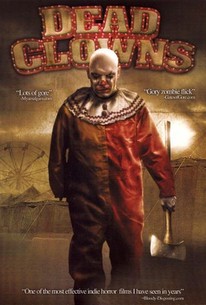 AUDIENCE SCORE
Critic Consensus: No consensus yet.
Movie Info
As a hurricane approaches a coastal community, circus clowns who were killed in a bridge collapse 50 years earlier emerge from their watery graves to exact revenge on the descendants of those who let them die. Debbie Rochon stars in this chiller. Lucien Eisenach, Brinke Stevens, Jeff Dylan Graham, Robyn Griggs.
Rating:
R (for horror violence/gore, language and brief drug use)
Genre:
Directed By:
Written By:
In Theaters:
On DVD:
Runtime:
Studio:
LionsGate Entertainment
Critic Reviews for Dead Clowns
There are no critic reviews yet for Dead Clowns. Keep checking Rotten Tomatoes for updates!
Audience Reviews for Dead Clowns
I do not lie when I say this is the worst movie I've ever seen. There's barely enough bad parts that are funny to make me finish watching it without contemplating suicide.
Michael Bevington
The one line synopsis for this movie refers to it as a "horrific thriller". Upon reading that, you might think "Oh, it's gonna be scary, and gruesome and awesome" and you would be 100% wrong. The only thing horrific about this "thriller' is that someone actually got paid for this. Where to start, where to start... *** In the early portion of the movie there is a "time stamp" that appears to show us progression. It starts at like 1:15pm, the next time it's 2:45pm, and so on. After using this device a handful of times, it is promptly forgotten and never used again. *** We get the back story of the dead clowns via a woman who tells the story to her husband/boyfriend. We also learn that her father was the person who inadvertently caused the death of a train car full of clowns. This sort of implies that maybe she is the main character. She is not. She is promptly killed. *** Characters are introduced. That's it. They are introduced. We learn very little, if anything, about them. Then they are killed. *** The "zombie" clowns move slowly, like zombies are want to do. But they also have fine motor skills and the ability to wield weapons. They are very methodical in their stalking of the victims. They open doors, peek inside, and move along. They are less zombies and more like slashers ala Michael Myers. *** Stock footage is used more than a $5 whore. Footage of various storms, hitting various towns in various parts of the U.S. is peppered all over the place. The film stock various from shot to shot, so its use is totally pointless. *** We meet someone later in the film who gives us the back story of the dead clowns. Yes. We get the same information a second time, from a second character. She, like the first lady, is promptly killed. *** A piece of plywood with a 2x4 frame on it (making a box) is heavy enough to pin a character to the ground. Except, when he breathes, the movement of his chest is enough to move the fixture. And yet, he's stuck. *** A little research on drug use would be useful. I'm no expert on the subject, but one line of coke isn't going to cause you to hallucinate. Also, coke does not look like table salt. *** There is no main character in this movie. When you think there is, you are proven wrong as they are stalked, killed and eaten. Yeah, at least the "zombie" clowns eat their prey. *** The sound quality is total ass. I was thumbing the volume up and down every scene change, and sometimes within the same scene. WHAT?!? I SAID "I was thumbing the volume up and down every scene change, and sometimes within the same scene"!!! *** The ending is... weak. Very weak. So weak that it probably couldn't lift a piece of plywood off of its own chest, either. Avoid this film. The concept is cool as hell. Dead clowns come back to life to wreak havoc on the town that brushed their tragic death under the carpet. In more capable hands, with some serious script revisions, this could have been a four star movie. As it stands, I'm giving it one star; half of one for the concept and the other half for the more than likely unintentional homage to Fulci's "Zombi" in one spot involving a meat thermometer. 1 dead clown out 5.
Mike Imboden
½
About half a century ago, a circus train was unfortunate enough to crumble when a bridge collapses, leaving a car full of clowns to drown in their watery deaths. The accident was such a big deal for the small town of Port Emmitt that everyone decided to just forget it after making several attempts to retrieve the missing clowns. Now, it's the present, and the undead clowns are back in town to kill everyone in Port Emmitt. This sounds like the most silly premise in the world, but everyone plays it straight in the film like it's some dead serious zombie clown shit! This movie is about as low budget as one can get, however, they manage to provide us with not one, but TWO scream queens. There is Brinke Stevens, who pretty much gives us the entire plot so as to let the rest of the movie go virtually dialog-free from then on. Also, there is the very beautiful Debbie Rochon (who doesn't utter a single word in this film) who is stuck in her house with some dead clowns, as well as a large sweater to keep the titties hidden, unfortunately. Yeah, other than that, the rest of the acting is atrocious, but I did love all of the gore and zombie clown make-up, even if it was not up to caliber with more big-budgeted films. The filmmakers worked with what they had and generated a VERY moderately entertaining popcorn movie, even if it may seem like a giant rip-off of The Fog, with a hurricane instead of fog and dead clowns instead of dead fisherman. Same concept though.
Jason Duron
Dead Clowns Quotes
There are no approved quotes yet for this movie.