The Dead Hate the Living
(2000)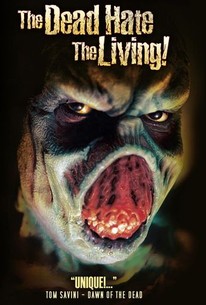 AUDIENCE SCORE
Critic Consensus: No consensus yet.
The Dead Hate the Living Photos
Movie Info
Whilst filming their latest horror masterpiece, a group of young filmmakers unwittingly open a portal to an alternative dimension that happens to be occupied by hordes of angry, and very hungry, zombies
Audience Reviews for The Dead Hate the Living
½
Not incredibly memorable, it takes a while to get started and even then it doesn't go anywhere. The characters aren't that great. There are some fun references and practical effects, which do keep the movie from being a total dud.
Wes Shad
½
The Dead Hate the Living! (Dave Parker, 2000) I seem to be one of the few, but I must admit I quite liked this silly little spoof, which is packed full of horror-maven in-jokes. It's made to form (quite like The Eves, above), but in The Dead Hate the Living!'s case, it's not trying to be a horror film, nor a suspense film, nor anything other than a stupid comedy, and that's why it succeeds where The Eves fails; it knows its limitations and instead of ignoring them or attempting (within its obviously ultra-limited budget), it makes fun of them instead. Don't get me wrong, this is still a no-budget film that, according to IMDB's trivia section, was shot in just ten days with a stable of amateur/aspiring professional actors who aren't all that hot, but the crew, inspired by all those horror classics, came up with some pretty inventive ways to stretch those budget dollars. It's not classic cinema by any means, but if you're an aficionado of cheesy no-budget horror, you'll be laughing with this movie more than you're laughing at it. ** 1/2
Robert Beveridge
The Dead Hate The Living! is a shining example of how not to make a successful horror movie. The characters are very one dimensional, the acting is atrocious, and the premise is just a bad idea all the way around. This is a bad movie. As for the horror element this film doesn't let up with the so-called "Blood & Guts." I think in one part they actually mention horror movie icon/special effects designer Tom Savini among its many references. However that is all they do, they just mention him, the effects are nowhere near Savini quality. In fact their effects and makeup look like they were purchaced at their local Halloween store. I know that they were on a very limited budget with $150 thousand, but you would think they could do a little better here. The movie is about a group of friends, apparently brothers and sisters as well, who are filming a horror movie about a zombie with jaundice or something like that. They break into an abandoned morgue? Hospital? Lab? and start filming. Wait! They are not alone. They awaken the spirit of Rob Zombie who comes back to wreak his havoc on the living. Why dont they just leave? Well they can't. They are stuck in a different dimension now. Who cares? The movie is noted however for having the late Matthew McGrory; you might know him as Tiny in House of 1000 Corpses. It makes me feel bad knowing that he was in such a bad movie. I am sure that he has been in other bad ones but this my friends takes the cake. I am going to give this movie a 1 out of 10 and may god have mercy on its soul. "Hey, Throw this TV at the Zombies. That will distract them." S!D
Brandon Siddall
Super Reviewer
The Dead Hate the Living Quotes
There are no approved quotes yet for this movie.
Discussion Forum
Discuss The Dead Hate the Living on our Movie forum!