Dead Men Don't Wear Plaid
(1982)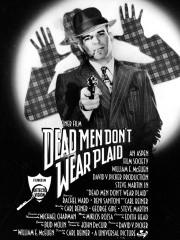 Dead Men Don't Wear Plaid Trailers & Photos
Movie Info
Affectionately spoofing 1940s film noir and detective dramas, this comedy follows a private investigator's attempts to solve the murder of a scientist. The central gimmick allows the film's modern-day stars to, through clever editing, interact with scenes and characters from actual period thrillers.
more
Cast
News & Interviews for Dead Men Don't Wear Plaid
Critic Reviews for Dead Men Don't Wear Plaid
Audience Reviews for Dead Men Don't Wear Plaid
½
This may be my favorite Steve Martin movie and one of my favorites ever. I consider it one of the funniest, most inventive films ever and years ahead of its time. As most of you know, this is a send-up or spoof of film noir detective movies interlacing live action with film clips. This is Forrest Gump meets Chinatown, sort of. The plot involves the mysterious death of a scientist and cheesemaker and subsequent investigation by Rigby Reardon (Martin) and his beautiful daughter (Ward). The story's actually only a setup for the brilliant and hilarious combination of movie clips and new footage.

Director and co-writer Carl Reiner worked with Steve Martin in The Jerk, and if you're a fan of that film, you'll love this one too. Gorgeous Rachel Ward is the bombshell here who plays it straight. She has great comedic timing. The films used for footage here include many of the greatest of the 1940s, including: Double Indemnity, The Big Sleep, Sorry Wrong Number, and The Postman Always Rings Twice. Humphrey Bogart (as Rigby's partner) plays a larger role than the other noir-era actors. Probably my favorite blended scene combines Martin (and a puppy) with Jimmie Sue Alfeld's father (Edward Arnold), "It's all soft and steamy" will leave you rolling in the aisle.

I can't get enough of the film noir era and its style, so "Dead Men" has enticed me to see many of the classic films that contributed clips here. Further stunting my development, I cannot hear the term "cleaning woman" without laughing. This was the last film for Oscar-winning designer Edith Head and composer Miklos Rozsa.

Sorry, Terre Haute, IN.
Clintus Maximus
Super Reviewer
This film noir spoof takes footage from the old movies and mixes them with scenes of Steve Martin as a detective. It's very interesting to watch, and very funny too.
Dead Men Don't Wear Plaid Quotes
Rigby Reardon: Here's three bucks if you can get this cab to 46 Bay Court in ten minutes.
Rigby Reardon: Follow that cab!
Rigby Reardon: I always carry my harmonica: it's lighter than an accordion and more powerful than a sleeping pill.
Juliet Forrest: We wouldn't have to have kids.
Juliet Forrest: Oh, you poor dear. I don't blame you for strangling me - I'll never say it again.
Discussion Forum
Discuss Dead Men Don't Wear Plaid on our Movie forum!
News & Features