Dead Men Walk
(1943)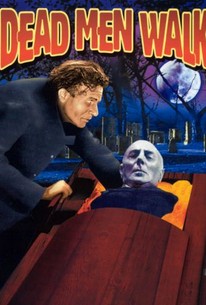 AUDIENCE SCORE
Critic Consensus: No consensus yet.
Movie Info
Filmed on what looks like a budget of $17.95, Dead Men Walk has its own seedy charm, and is one of the most entertaining of the PRC horror quickies. The incomparable George Zucco plays a dual role, as village doctor Lloyd Clayton and his brother Elwyn, also a doctor. When Lloyd murders Elwyn, the latter returns from the dead as a vampire, with the help of hunchbacked assistant Zolarr (welcome back, Dwight Frye!) Elwyn goes on a killing spree, for which Lloyd is held responsible. A lynching is averted when heroine Gayle (Mary Carlisle) and hero Dr. Bentley (future screenwriter Nedrick Young) prove that the dead Elwyn is the guilty party.
Rating:
NR
Genre:
, ,
Directed By:
Written By:
In Theaters:
Runtime:
Studio:
Independent International Pictures Corp.
Critic Reviews for Dead Men Walk
All Critics (2) | Fresh (0) | Rotten (2)
Has a few bright spots, such as a campy Zucco rising from the dead to chant a black arts mantra.

Ozus' World Movie Reviews
It all fizzles under lackluster direction, a story that drags, and a conflict that ultimately just isn't that interesting, let alone frightening.

Audience Reviews for Dead Men Walk
½
A bromidic black and white vampire film in which George Zucco plays two different characters, twins in fact, and does a decent job. Adam Sandler should take notes.
Chad Lehmann
½
Decent moments and characters, but not much else. The ending was climatic enough but didn't really do much good to the film. The story isn't too great and the pacing is a little off with a few slow moments.
Wes Shad
½
Pretty slow vampire film but NOT as poorly acted as reviewed elsewhere. While tame stuff today, for its day might have been a decent B horror film. Only an hour long, it seems much longer. Our two lead actors are brothers, but played amazingly by the same actor, George Zucco [img]http://ia600301.us.archive.org/10/items/DeadMenWalk/DeadMenWalk.thumbs/DeadMenWalk_001080.jpg[/img] George Zucco, doctor [img]http://t1.gstatic.com/images?q=tbn:ANd9GcTI9SbdRkY2lLwx65i5MS54XpzfJA7XGg8bEoJTeR3IDlpPc0c_CA[/img] George Zucco, vampire "The story involves a kindly small-town physician (Zucco) who has secretly murdered his twin brother because of his deep involvement in the occult sciences. Unfortunately, the twin has gone too far into the dark arts, and is easily restored to life by his familiar (Frye); and he sets out in revenge against his brother and his niece (Carlisle)."---wikipedia [img]http://ia600301.us.archive.org/10/items/DeadMenWalk/DeadMenWalk.thumbs/DeadMenWalk_001920.jpg[/img] Sam Newfield (real name: Samuel Neufeld). Newfield had been involved in films and directing since the silent days, and he had a reputation for doing quickies, cheapies, really low-budget flicks. The doctor is made to be a believer in vampires, although the word is not heard in the film. Here is that scene by a woman thought crazy: [img]http://ia600301.us.archive.org/10/items/DeadMenWalk/DeadMenWalk.thumbs/DeadMenWalk_001980.jpg[/img] NOTES about the film: 1 Definately NOT to be confused with the modern film Dead Men Walking REVIEWS of the film from others: 1 Spooky old classic, but it is hurt badly by very poor acting by much of the cast. Good atmosphere. Most definitely a "B" movie. 2 A strange script with a vampire that does very little killing and so little vampire lore it could have been a ghost story. (And, as usual, dumb townspeople who get in the way.) It reminded me of Lugosi's Return of the Vampire, also from '43 3 This is basically a good twin/ bad twin movie with poor George Zucco playing both leads. The good twin is a self-righteous doctor; the bad twin is a vampire. Cast George Zucco Mary Carlisle Nedrick Young Dwight Frye Fern Emmett Robert Strange Hal Price Sam Flint Directed by Sam Newfield (Neufeld) Produced by Sigmund Neufeld Written by Fred Myton Music by Leo Erdody Cinematography Jack Greenhalgh Editing by Holbrook N. Todd Distributed by Producers Releasing Corporation Release date(s) 10 February 1943 Running time 64 min [img]http://t2.gstatic.com/images?q=tbn:ANd9GcRLOGuo6Id5_LCUZ0zePeuRSP4RTBrkV9TiPry3X4xuE1PHiw7Wqw[/img]
monsieur rick
Discussion Forum
Discuss Dead Men Walk on our Movie forum!