The Dead Pit
(1989)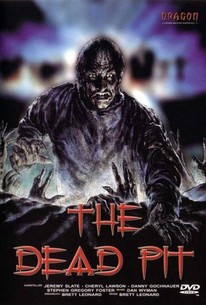 AUDIENCE SCORE
Critic Consensus: No consensus yet.
Movie Info
Zombies rise up from a terrifying pit beneath a notorious mental asylum to do the bidding of the evil Dr. Ramzi, the crazed doctor who twenty years before was walled up alive in the crazy house after someone discovered his horrific experiments involving formaldehyde and illegal lobotomies. Following each experiment, the doctor would casually toss the dead victims into the pit. While his captor slowly bricks him up, Ramzi swears that he will have revenge. When enigmatic Jane Doe is admitted into the asylum for severe amnesia and she turns out to have amazing subconscious psychic power that wakens Ramzi from his hellish sleep, he gets his revenge. Jane and Ramzi seem to be psychically linked and he draws his power from her as he begins to resurrect his former victims. He then sends his small zombie army out into the hospital to find new recruits. Gory, creative killing occurs, for Ramzi's zombies are not only quick, they are also semi-intelligent. Now only Jane, the doctor who originally killed Ramzi, a psychotic demolitions expert and a lunatic zombified nun can stop them.
Rating:
R
Genre:
Directed By:
Written By:
On DVD:
Runtime:
Studio:
Cornerstone Production Company
Critic Reviews for The Dead Pit
Audience Reviews for The Dead Pit
½
strange lunatic asylum haunted zombie movie that really careens all over the map with little sense. Why would there be a satanic doctor looking for the cure to madness with a big barrel of formaldehyde? And the pit is more like a divot. Most of the movie comes off as a badly staged haunted hay ride, but the zombies or undead or bloody brainless patients are somewhat effective. The scene where they are all exchanging brains is pretty innovative. Otherwise, um, there is Stephen Gregory Foster's bizarro accent to amuse you.
R.John Xerxes
½
Many didn't think much of this but I thought it was a pretty decent film. It moves along slowly and manages to cast a creepy atmosphere throughout. It doesn't turn into a full-blown Zombie movie until the last 25 minutes with a very cool scene of the dead rising from the pit of the mysterious abandoned wing of the mental hospital. It has moments of violence scattered around but nothing too graphic or gory that's expected from this type of film. It's not very exciting but still a worthwhile watch.
The unrated edition does feature more gore (some of it pretty good) but it still doesn't help this overly long, slow moving snoozefest from the 80's. "Where can we get more of this... holy water?"
A.D. Villarreal
Super Reviewer
The Dead Pit Quotes
There are no approved quotes yet for this movie.