Dead Silence
(2007)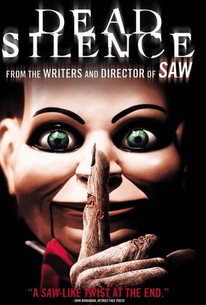 TOMATOMETER
AUDIENCE SCORE
Critic Consensus: More tasteful than recent slasher flicks, but Dead Silence is undone by boring characters, bland dialogue, and an unnecessary and obvious twist ending.
Movie Info
Saw duo James Wan and Leigh Whannell re-team for this chilling tale of a widower (Ryan Kwanten) who returns to his hometown to unearth clues about his recently departed wife's untimely death. In the quiet town of Ravens Fair, children taunt one another with spooky stories about a ventriloquist whose mind was ravaged by insanity. Mary Shaw was a popular entertainer until she was accused of murdering a young boy. Subsequently hunted and captured by the vengeful townspeople, Mary's tongue was cut out before she was mercilessly killed and committed to the earth in the company of her handmade collection of vaudeville dolls. In the years that followed, the town seemed to be haunted by those ghastly puppets. After mysteriously disappearing from Mary's grave, the menacing figurines would sometimes be glimpsed by the damned in the dead of night -- their appearance consistently foreshadowing the death of whoever laid eyes upon them. Entire families were found slaughtered, their tongues brutally torn from their mouths in a sickening scene that eerily recalled the execution of the elderly ventriloquist. Newlyweds Jamie (Ryan Kwanten) and Lisa Ashen (Laura Regan) both grew up in Ravens Fair. Now, following Lisa's inexplicable death, Paul has returned to the pair's hometown in order to say his final goodbyes and find out the truth about his wife's enigmatic demise. After being reunited with his ailing father (Bob Gunton) and the aging man's pretty young bride (Amber Valletta), the grieving widower will finally uncover the shocking truth behind the curse that has plagued Ravens Fair for as far back as he can remember.
People Who Like this movie also like
News & Interviews for Dead Silence
Critic Reviews for Dead Silence
Audience Reviews for Dead Silence
A creepy horror movie that builds an ominous atmosphere with an ambitious production design and great eerie cinematography (of course, James Wan), and even if the efficient story is nothing really special or original, it offers a nice twist in the end.
Carlos Magalhães
Super Reviewer
I kinda liked it...though I'm probably in the minority. I'm terrified of puppets/dolls coming alive, so this movie freaked me out. I've watched so many horror films and I'm not phased by anything...except puppets/dolls. Ever since I was a kid, I thought they were just so fucking creepy. So this movie definitely scared me more than most of the horror films I've watched. I thought it was pretty decent. And damnnn Ryan Kwanten...every time his gorgeous Australian accent slipped through....I loved it. The characters were fairly underdeveloped, and it was kind of predictable, but whatever. It was a pretty good B-movie. The pacing seemed a little fast for my taste, maybe that's why the characters weren't developed as well. But other than that, I can't complain. The twist at the end was cool. I'd watch it again.
½
There are two things in this world that creeps the hell out of me: the first being clowns and the second being evil puppets. Terrifyingly enough, this movie has both! Now, I'll be honest here and say that I didn't expect much out of this film. In fact, I was but a word of discouragement away from skipping it altogether. But I'm very pleased that I didn't, because this was so much better than I first gave it credit for. In similiarity to Insidious, it's a very atmospheric production, with spooky, nightmarish settings, enveloped in mist and spine-tingling tension. Although the characters are one-dimensional and pretty brainless in their actions, there's a lot to love about the movie in terms of scare factors and excitement. All-around, the directing is superb, and it feels like one of those old-school horror movies that I used to watch as a kid. Surely not to everyone's taste, but if you like Kwan's other films, then you'll probably enjoy this one as well. And did I mention how seriously creepy it is?
Dead Silence Quotes
| | |
| --- | --- |
| Jamie Ashen: | Beware the stare of Mary Shaw. She had no children, only dolls. |
| | |
| --- | --- |
| Ella Ashen: | If you go looking for answers, you just might find them. |
| | |
| --- | --- |
| Jamie Ashen: | What did Michael Ashen and our family have to do with Mary Shaw!? |
| | |
| --- | --- |
| Jamie Ashen: | Lisa this is NOT FUNNY! |
Discussion Forum
Discuss Dead Silence on our Movie forum!