Dead Wood
(2007)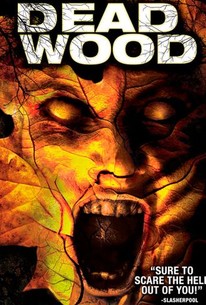 AUDIENCE SCORE
Critic Consensus: No consensus yet.
Dead Wood Videos
Dead Wood Photos
Movie Info
Two couples camping in the woods encounter a mysterious woman whose sudden appearance at their campsite heralds an increasingly unsettling series of events. They thought they were escaping into the wilderness for a relaxing weekend; little did these four friends realize that they'd soon be fighting for their lives. When a bedraggled woman shows up fireside looking for her missing boyfriend, a dark evil descends upon the forest and, one by one, the campers begin to vanish without a trace. But where have they disappeared to, and what grim fate awaits those who remain?
Rating:
R (for some violent/disturbing images and language)
Genre:
Directed By:
Written By:
In Theaters:
On DVD:
Runtime:
Studio:
Cast
Critic Reviews for Dead Wood
All Critics (1) | Fresh (0) | Rotten (1)

Audience Reviews for Dead Wood
This slow-moving British "nature's revenge" horror flick is aptly named, considering the unimaginative story and poor quality acting. Four twenty-somethings head into the woods for a weekend camping trip and soon find themselves lost. A mysterious (well, not so mysterious, really) woman shows up, claiming that her boyfriend has vanished. Before long, a couple of the friends have also disappeared. One never comes up from a dive in a lake. Another gets incorporated into a tree. It takes so long for anything to happen, and everything that happens is predictable. Events are telegraphed early on, and the climax of the film relies upon the heroine making a very unlikely choice in her actions that will undoubtedly solicit a groan from any viewer whose IQ is larger than his shoe size. The special effects look rather cheezy, especially when low-budget animatronics are used. The CG isn't much better, though. "The Long Weekend" meets "The Evil Dead" with a bit of "Little Shop of Horrors," or maybe "Swamp Thing," thrown into the mix. There appears to be a ham-handed message about environmentalism early on, but even that gets muddled into oblivion by the end. Lots of good things can be made of wood. This flick is not one of them.
Brian Seitzman
This was so beyond awful that I had to turn it off less than halfway through. Technically I shouldn't be writing a review on it, b/c I never saw the ending, but trust me...it was so bad that you wouldn't want to sit through more than 30 min. of it, either. The camera work was horrible (cheap as it comes), as was the "acting." Lips and words didn't even match up. I wouldn't give it another shot.
cody phillips
I'm told this is a cheap British horror flick, guess that?s true with Nina Kwok added to the picture my thoughts turned to some Japanese horror remake. Its not the best of horror licks, the images into trees were pretty good, but it lacks the over all fright factor that makes up a good horror film. Its a good rainy day weekend watch, but forget showing it on a Saturday night, because Saturday nights are made for real horror. 3 Stars
Bruce Bruce
Super Reviewer
Discussion Forum
Discuss Dead Wood on our Movie forum!
News & Features