Dead Wood
(2007)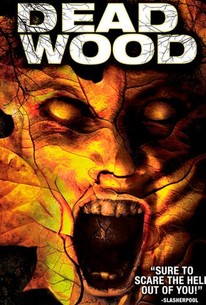 AUDIENCE SCORE
Critic Consensus: No consensus yet.
Movie Info
Two couples camping in the woods encounter a mysterious woman whose sudden appearance at their campsite heralds an increasingly unsettling series of events. They thought they were escaping into the wilderness for a relaxing weekend; little did these four friends realize that they'd soon be fighting for their lives. When a bedraggled woman shows up fireside looking for her missing boyfriend, a dark evil descends upon the forest and, one by one, the campers begin to vanish without a trace. But where have they disappeared to, and what grim fate awaits those who remain?
Critic Reviews for Dead Wood
Audience Reviews for Dead Wood
I'm told this is a cheap British horror flick, guess that?s true with Nina Kwok added to the picture my thoughts turned to some Japanese horror remake. Its not the best of horror licks, the images into trees were pretty good, but it lacks the over all fright factor that makes up a good horror film. Its a good rainy day weekend watch, but forget showing it on a Saturday night, because Saturday nights are made for real horror. 3 Stars
Bruce Bruce
Super Reviewer
An fantastic little horror gem that was an pleasant low budget surprise. This was an ultra creepy supernatural/horror movie that kind of reminded me in some parts of the horror film The Blair Witch Project but a better version of it and without the shaky cameras. I thought the acting was better than expected and the atmoshere top notch with enough scares to please. This is one of those movies that gets better and better with each passing minute and ends with a bang! I urge them to make a sequel because there is plenty of room for one. Overall I can't recommend this enough because it will surprise you in more ways than one, so turn off the lights and get ready to get spooked! Strongly recommended!
Matt Slash
Super Reviewer
Dead Wood Quotes
There are no approved quotes yet for this movie.