Deadbeat at Dawn
(1990)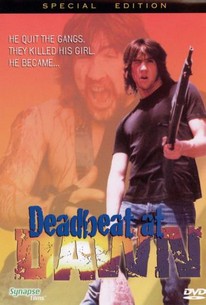 AUDIENCE SCORE
Critic Consensus: No consensus yet.
Movie Info
Director Jim Van Bebber doubles as star of Deadbeat at Dawn. The film concerns two rival criminal gangs: The Ravens and The Spiders. The leader of the Ravens is shamed into quitting by his concerned girlfriend. But the head of the Spiders isn't about to let his opposite number off the hook. He orders the girlfriend's murder, and makes certain that the Raven leader knows who's responsible. The Spiders' timing couldn't be worse: the two groups have just called a temporary truce so that they can collaborate on a security-truck robbery.
Rating:
R
Genre:
, ,
Directed By:
Written By:
On DVD:
Runtime:
Critic Reviews for Deadbeat at Dawn
Audience Reviews for Deadbeat at Dawn
An over-the-top 80s gory exploitation/action DIY flick about battling MidWest street gangs based in Ohio. The story follows the leader of a street gang (Ravens) who wants to leave the life of violence. Upon learning of his departure, the rival gang (Spiders) kills the former Ravens leaders girlfriend. Seeking revenge, he finds no help with his former friends the Ravens since because of the power vacuum, they have joined the Spiders. Many fights with some great kung-fu style action make this a non-stop action-fest. The gore rivaled "The Story of Ricky" (also 1988), but with less comedic effect. Some pacing issues as well as some disconnects on how certain things would have logically happened. Watch it!
D M
As the 80's began to draw to a close at the doorstep of the pussified 90's where the MPAA started to become corrupt and censor-happy, so to was the end of the era of grindhouse/exploitation flicks (which mostly died out in the mid-80's), with the exception of one of two stragglers popping up here and there to satiate the bloodlust of hardcore exploitation film fans. As luck would have it, one of those stragglers would be Deadbeat at Dawn, a terrific send-up towards ultra-violent gangster movies (a la The Warriors) with a low budget and a group of film crew/cast members willing to go complete apeshit in order to deliver something brutal and amazing. Deadbeat at Dawn was written and directed by Jim Van Bebber, who also starred as Goose, the vicious leader of the notorious Ravens gang, currently at war with another equally vicious gang called the Spiders, led by late Paul Harper (The Wild Bunch). Thanks to a worrisome girlfriend, Goose is given the ultimatum of leaving the group and settling down with his gf, or losing her forever. Goose opts to leave the gang, which combines with the Spiders who secretly kill Goose's gf, sending him on a downward spiral that has him re-joining the gang for one giant score, only to turn the tables and start an all-out war that excels in being completely over-the-top in violence, blood, and gore. This ambitious, low-budget actioner packs a big, big punch. It's spastic, wild, gritty, and all over the place, pitting us in the a world of seedy and despicable deadbeats where we reluctantly find a little bit of good in the one that's vicious enough to take the entire group down. Deadbeat at Dawn is a true gem of a film for fans of violent actioners and exploitation films. Though produced in 1988, this film definitely invokes the 70's, with wildly imaginative, off-the-wall characters that could've came straight out of an early Tobe Hooper film. It genuinely upsets me that it took this long to finally watch such a demented, yet fun little flick. This is one mean little flick, so stay away if you get offended easily.
Jason Duron
½
Good times abound in Van Bebber's opus. Despite it's low budget, this is a rollicking sleazefest made with a lot o' love and there is plenty to enjoy. Gang fights, extreme violence and a wicked (that's right, wicked) Van Beeber performance make this a must see for trash fans. Watch on a bill with Darkness, Lethal Force and Combat Shock for no budget movie mayhem marathon.
Christopher Brown
Super Reviewer
Discussion Forum
Discuss Deadbeat at Dawn on our Movie forum!