Deadheads
(2011)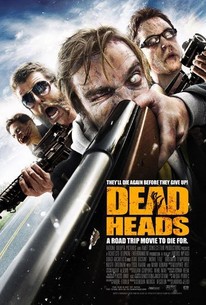 AUDIENCE SCORE
Critic Consensus: No consensus yet.
Movie Info
Two inexplicably coherent zombies awake amidst a zombie attack and decide to take a road trip to find the one's lost love, unaware they are being chased by the agents of a ruthless company with it's own agenda. -- (C) Official Site
Critic Reviews for Deadheads
There are no critic reviews yet for Deadheads. Keep checking Rotten Tomatoes for updates!
Audience Reviews for Deadheads
Another movie with a poster promising something that never even came close to happening. The poster sees Brent holding a shotgun ready to shoot someone, yet Brent never holds a shotgun nor does he ever shoot anyone. Of course, seeing a zombie hold a shotgun is certainly more appealing, from a marketing perspective, than it is to tell the truth. Though I'm not sure who watches films because of their posters. With that said, this movie reminds of Unicorn City and A Little Bit Zombie in that while its technical and budgetary limitations may be very obvious, the film completely overcomes them with a solid script and a great cast. So yes, the movie looks very low-budget but that doesn't mean that this movie isn't a lot of fun, because it is. Basically, the film boils down to a road trip, zombie love story. I was also pleasantly surprised by how character-driven the whole film was. Of course, I'm not saying the characters are really that three-dimensional, but I grew to care for them and there are even some tender and genuinely touching moments in the film. The comedy isn't great, it's certainly funny enough to get by but I think the cast's enthusiasm certainly helped make up for some of the weaker moments in the film. My favorite character would have to be McDinkle and he's the angry asshole that spouts off cheesy one-liners. He certainly has the funniest lines of the film, and he was really entertaining in this role. But, as mentioned, the entire cast is great and incredibly enthusiastic which certainly adds to the enjoyment of the film. The script is also solid, it's clear that the Pierce Brothers are in touch with geek culture as there are many references to other films. Don't let the low-budget fool you, this film is a lot of fun and I think it's certainly an underrated film in the horror community. It's not the best horror film you'll ever see, but it is really entertaining.
Jesse Ortega
Super Reviewer
Very silly, but deliberately so. The comical relief can get pretty annoying at times, but still remains funny overall. The over-the-top nature of the ending is really enjoyable.
Stephen Skudlarek
Super Reviewer
I love this freaking movie! Very smart and funny.
Jason Reneau
Super Reviewer
Deadheads Quotes
There are no approved quotes yet for this movie.