Deadland
(2008)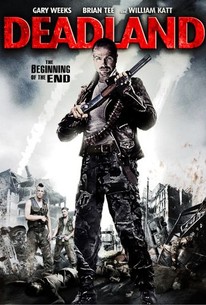 AUDIENCE SCORE
Critic Consensus: No consensus yet.
Movie Info
In the radiation-infected aftermath of World War III, one man's desperate attempt to find his wife in the wastelands that were once the United States inspires his fellow survivors to fight for humanity. The bomb has dropped, and in the blink of an eye, America has been plunged back into the Stone Age. Money is worthless, food is scarce, and those who once thought they were fortunate to survive the initial attack are now slowly being consumed from the inside out, the victims of an all-consuming nuclear scourge. Before the war, Sean Kalos (Gary Weeks) was just a regular guy. But now his wife is nowhere to be found, and the former United States is broken up into the United Provinces. The change was meant to ring in the dawn of a new era, but when the Officers of the Province opt for tyranny over justice, the future of civilization begins to look incredibly grim. Marshal Law has been declared, and when Sean refuses to bow to the newly established power structure, he becomes a human target for the leaders who still cling to power. Little do they realize that the bomb has awoken the populace from a deep slumber, and now they're ready to rise up. And while Sean may seem an unlikely revolutionary, his fight inspires his fellow survivors to reclaim their world for themselves, and not the puppet masters who were pulling the strings back when the world was distracted from the things that truly mattered.
Critic Reviews for Deadland
There are no critic reviews yet for Deadland. Keep checking Rotten Tomatoes for updates!
Audience Reviews for Deadland
½
I'll be honest, I only watched it because Brian Tee starred in and produced this. He was actually quite funny. I've seen him do juvenile comedy on Zoey 101, but I've never really seen him do adult comedy outside of a five-second cameo on Austin Powers. It seemed very natural for him and was kind of fun to watch. The film is predictable but I admire what Tee and Chad Matthews, who plays the film's main character, were able to accomplish and recommend every Brian Tee fan watch this film if for nothing else, then to prove you're a fan and just to say you've seen the film.
Remi Logan
Super Reviewer
Deadland is proof that you don't need a big budget in order to tell a compelling post-apocalyptic tale. Sure, special effects may help depict the terror that will undo the world, but if it's a post-apocalyptic tale you're telling, the emphasis should be about what happens after the destruction. And this movie does so very well. Don't be fooled by its shoe-string budget or cast of unknown actors. The movie is full to the brim with great action, suspense and drama. The story of a man in search for his long-lost wife after the seeming decimation of society is a classic tale of overcoming adversity. This determined man must cross not only a desolate and unforgiving terrain; but also the encounter the vicious people that a shell-shocked world has produced. No zombies in this movie--although an allusion or two is made through the mysterious virus--the threat is more of, well, threat than it actually is a manifestation on film. The danger or humans becoming animals is always in the back of everyone's mind and a quest to find a cure must also be completed. The lack of visual trickery makes this film all the more satisfying. It is a gritty, and thus more realistic portrayal of events. After all, when the world ends, there won't be high-tech bedazzlement and computer gadgetry to help us fend off the end times--there would just be people trying to survive and this is the very simple story of just that. You'd be hard pressed to find this movie playing at any movie theater. It has been released only as far as the limited festival schedule it's on has permitted. But if you ever come across it in the video store or elsewhere, it's definitely worth giving it a try. P.S. This movie is not, in any way, related to Zombieland. Just throught I'd clear that up.
Rico Zamora
Super Reviewer
Deadland Quotes
There are no approved quotes yet for this movie.
Discussion Forum
Discuss Deadland on our Movie forum!