Deadland
(2008)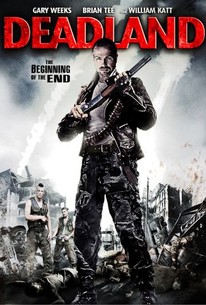 AUDIENCE SCORE
Critic Consensus: No consensus yet.
Movie Info
In the radiation-infected aftermath of World War III, one man's desperate attempt to find his wife in the wastelands that were once the United States inspires his fellow survivors to fight for humanity. The bomb has dropped, and in the blink of an eye, America has been plunged back into the Stone Age. Money is worthless, food is scarce, and those who once thought they were fortunate to survive the initial attack are now slowly being consumed from the inside out, the victims of an all-consuming nuclear scourge. Before the war, Sean Kalos (Gary Weeks) was just a regular guy. But now his wife is nowhere to be found, and the former United States is broken up into the United Provinces. The change was meant to ring in the dawn of a new era, but when the Officers of the Province opt for tyranny over justice, the future of civilization begins to look incredibly grim. Marshal Law has been declared, and when Sean refuses to bow to the newly established power structure, he becomes a human target for the leaders who still cling to power. Little do they realize that the bomb has awoken the populace from a deep slumber, and now they're ready to rise up. And while Sean may seem an unlikely revolutionary, his fight inspires his fellow survivors to reclaim their world for themselves, and not the puppet masters who were pulling the strings back when the world was distracted from the things that truly mattered.
Rating:
R (for violence, language and some sexual content.)
Genre:
, , , ,
Directed By:
Written By:
On DVD:
Runtime:
Studio:
Lightning Media
Critic Reviews for Deadland
There are no critic reviews yet for Deadland. Keep checking Rotten Tomatoes for updates!
Audience Reviews for Deadland
½
I'll be honest, I only watched it because Brian Tee starred in and produced this. He was actually quite funny. I've seen him do juvenile comedy on Zoey 101, but I've never really seen him do adult comedy outside of a five-second cameo on Austin Powers. It seemed very natural for him and was kind of fun to watch. The film is predictable but I admire what Tee and Chad Matthews, who plays the film's main character, were able to accomplish and recommend every Brian Tee fan watch this film if for nothing else, then to prove you're a fan and just to say you've seen the film.
Remi Logan
Super Reviewer
½
It is the end of the world and the hero tries to find and rescue his wife from a camp. It's a little low budget and wasn't as good as a lot of others like this I've seen. (Watch Jeremiah, same plot, but it's much better).
John Trifiletti
This movie looked and sounded really cool, unfortunately such is the case with many movies it just lied to me. What ticks me off is that it is not too bad it just doesn't deliver at the end. The whole movie is building to this moment where the underground rises and fights the oppressors. Then all of a sudden the partner betrays the main character and I guess is killed and then some women are set free, and there is a mutiny which pretty much is bang... bang... end of movie. So no uprising, no badass killing machine, no cool fights. There is no climax to this movie. It builds and builds pretty effectively and then... nothing. It just ends. The cover of this movie shows a badass in a post apocalyptic setting with a double barrel shotty and some other dudes with guns in the background. The synopsis says that there will be lots of him killing slave traders and mercenaries. Yet all he does is get his ass kicked, run away, hide, get captured, and never even so much as hurt anyone other than throwing a dude to the ground. All this movie needed to do to please me is have a climax where there is actual tension, and actual conflict. Not just a bunch of nothing. This movie is crap don't watch it.
Dutch Vandar
Deadland Quotes
There are no approved quotes yet for this movie.